Lenses & Shutters
Contents
(Scroll down or click on Links)
Triplets (Tri-Lausar, Heliotar, Yashimar & Yashikor)
Triplets (Yashinon)
Tessar Type Taking Lenses (Lumaxar & Yashinon)
Lumaxar and Yashinon Viewing Lenses


44Models
Are all Yashinon Lenses 4 Element Tessar Types?
Swapping Lenses

Copal Shutters
Apertures
5 and 10 Bladed Apertures
A Most Unusual Camera and Shutter
Copal MXV vs SV

Lenses
The table below lists all the lenses fitted to both 66 and 44 models. The difference between the assumed number of elements in the taking lens and what I believe is the actual number should become clear as you read on (Yashica itself has confirmed that the 60 mm 44LM Yashinon is a triplet).
Lenses

Focal Length

Assumed No. of Taking
Lens
Elements


No. of Taking
Lens
Elements


Viewing Lens Aperture

Models Fitted To:

Tri-Lausar

80 mm

3

3

f/3.5

First models, Yashica Flex S
Heliotar

80 mm

3

3

f/3.5

Yashicaflex S, Yashica Hi-Mec
Yashimar

80 mm

3

3

f/3.5

Flexes, Rookie, Yashica A
Yashikor

80 mm

3

3

f/3.5

Flexes, knob wind Yashicas
Lumaxar

75 mm

4

4

f/3.2

Yashica-Mat
Lumaxar

80 mm

4

4

f/3.2

Yashica-Mat
Yashinon

80 mm

4

4

f/3.2, 2.8

Crank models, 1970 D & 635
Yashinon

80 mm

4

3

f/3.5

Yashica Auto, E
Yashikor

60 mm

3

3

f/3.5

44, 44A
Yashinon

60 mm

4

3 confirmed

f/3.5

44LM
Yashinon

60 mm

4

?

f/2.8

Auto 44
Note 1: All taking lens apertures are f/3.5 except on the Yashica Auto 44 which is claimed by Sugiyama to be f/2.8.
Note 2: I believe that all viewing lenses have 3 elements (explained further below).
The lens name appears on the front retaining/dress ring with focal length, aperture and serial number (lens serial numbers are not applicable for some models from 1964 onward - both Yashica E lenses and all Yashinon viewing lenses and from the beginning of 1975, Yashica Mat 124-G and 124-B taking lenses also). The Tri-Lausar naming schema varied over time, simplifying from "Tomioka Opt. Co. Tri-Lausar" to "Tomioka Tri-Lausar" to "Tri-Lausar", the mix below caused by overlapping models (explained on 66 Models pages):
Pigeonflex (early): "Tomioka Opt. Co. Tri-Lausar"
Pigeonflex (late): "Tomioka Tri-Lausar"
Yashimaflex (early): "Tomioka Opt. Co. Tri-Lausar"
Yashimaflex (late): "Tomioka Tri-Lausar"
Yashima Flex: "Tomioka Tri-Lausar"
Yashica Flex Model B (early): "Tomioka Tri-Lausar"
Yashica Flex Model B (late): "Tri-Lausar"
Yashica Flex Model S (early): "Tomioka Tri-Lausar"
All lens serial numbers until probably just before the change to the new style focusing knob in 1956 were prefixed by "No." after which time the prefix was dropped.
All Lumaxar viewing lenses and all Yashinon viewing lens on Mats and Mat-LMs up to 1964 are prefixed by "View-" as in "View-Lumaxar" and "View-Yashinon". The prefix seems to have been dropped at the time of the introduction of the Mat-EM.
Tomioka
As far as it is known, all Yashica TLR lenses were sourced from the initially independent Japanese lens manufacturer Tomioka (although there is some controversy with the Lumaxars and contrary to claims of "exclusive lens supplier", the evidence is that Yashica did source lenses from elsewhere for its initial cine and 35 mmm needs - see "Naming & Sourcing Controversies" further down). The business was founded by lens maker Masashige Tomioka in 1924 as Tomioka Kōgaku Kenkyūjo, or Tomioka Optical Laboratory (Camera-wiki.org), and started manufacturing in 1932 as Tomioka Kogaku Kikai Seizosho ("The Evolution of the Japanese Camera" by Condax et al, NY 1984), or Tomioka Optical Instruments Manufacturing Facility. The name on the earliest 1953 Pigeonflex examples was "Tomioka Opt. Co.", i.e., Tomioka Optical Company. In 1968, Tomioka was absorbed by Yashica and renamed Tomioka Optical Co., Ltd. in 1969. Following the Kyocera takeover of Yashica in 1983, Tomioka was renamed Kyocera Optec Co., Ltd in 1991 and still exists today.
Masashige Tomioka was born in 1988. His father, Tokisaburo Tomioka, was the head of a village in Nishitama District, Kanagawa Prefecture, also called Tomioka. Masahige graduated from the Tokyo College of Science (renamed Tokyo University of Science in 1949) in 1913 and worked for the military at the Army Artillery Engineering Factory. Following his discharge in 1917, he took up employment with Nippon Kōgaku Kōgyō K.K. (the future Nikon) which, under Imperial Japanese Navy guidance, was formed also in 1917 to improve Japan's optical capabilities, but after the Naval reduction was implemented in 1922 and Nippon Kogaku scaled back its plans, he branched out on his own.
Early lenses were Tessar based designs called "Lausar" made for medium format cameras plus a 1937 5cm f/4.5 Leitz Elmar look-alike made for a Tomioka prototype 127 camera based loosely on the Leica (see Tessar Type Taking Lenses). Production also increased of optical items for the Army and Navy and in 1943 the factory was expanded and mass production began. In 1945, one of the War-time factories was destroyed in an air raid and after the War, the company was disbanded. In May 1949, Masashige Tomioka relaunched the company with 15 employees which grew to 200 by 1952. In austere post-War conditions, the Tri-Lausar triplet was launched as a budget alternative.
When Yashima introduced the Heliotar lens name on the Yashica Flex model S in 1954, reference to the lens ancestry on its TLRs disappeared for ever, however, the Tomioka maker name would make a reappearance on a couple of premium M42 SLR lenses at the end of the 1960s, one being the Auto Yashinon f/1.2 55mm seen on Yashica TL Electro-X brochures (this lens was also available from other camera makers as the Auto Chinon, Auto Cosinon, Auto Revuenon and from Tomioka itself as the Auto Tominon). Tomioka's "Tominon" name also appears on some versions of the Pentamatic wide angle and telephoto lenses but with "Yashica" rather than "Tomioka".
In 1973, Yashica licensed the "Contax" name (officially "CONTAX" from 1975) in a joint arrangement with Carl Zeiss. The first camera resulting from this partnership was the Japanese designed, Porsche styled, Contax RTS 35 mm SLR introduced at Photokina 1974. The Contax models were fitted with "Carl Zeiss" branded lenses. I understand that these were Carl Zeiss designs and that some were made in Germany and some (most) in Japan by Tomioka. I don't know the level of collaboration but it seems that Contax lenses made in either country are equally regarded - high praise indeed for Tomioka (and Yashica).
66 Models
Lenses for the 66 models fit into two distinct groups; triplet lenses with 3 single elements in 3 groups (19th century English design more correctly known as a Cooke Triplet lens, even though the inventor was H. Dennis Taylor, Cooke's employee) and Tessar types with 4 elements in 3 groups with rear cemented pair (German Zeiss lens type originally designed in 1902 by Paul Randolph). Both the original Cooke Triplet and Zeiss Tessar designs were widely copied and used in many applications and were a staple for TLR makers generally (although there were more sophisticated 5 and 6 element designs used by later Rolleiflex and other premium designs, e.g. Olympus and Fujicaflex TLRs):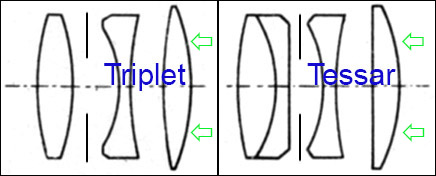 In both designs, the aperture placement (and shutter in the case of the leaf shutters used in TLRs) is after the second element from the front of the lens.
Triplets (Tri-Lausar, Heliotar, Yashimar & Yashikor)
From the outset, both Yashima taking and viewing lenses were simply called "Tri-Lausar", either with or without being preceded by the Tomioka maker name in several forms as noted at the top of the Lenses section. Similar spec Tri-Lausar branded lenses were used by a number of other TLR makers as well but usually, the taking lens was named "Tri-Lausar Anastigmat" and the the viewing lens, "Tri-Lausar Viewer". Whether these were the same as on the Yashima models is not known but very likely. The Tri-Lausars were followed by the Yashima specific Heliotar, Yashimar and Yashikor names. All, including viewing lenses, were 80 mm f/3.5 lenses. The Yashikor was certainly reputed to be an improvement over its predecessors but the real differences are unknown. These could be related to coatings, some tweaking of the lens formula or change in the glass. Some/all differences could simply be branding. The Yashimars, although of the same optical design, were undoubtedly offered as budget alternatives from the outset and may have been cheaper to make/procure for some reason, e.g. more basic coatings, or if the Heliotars were a real improvement over the Tri-Lausars, perhaps the Yashimar was simply a re-branded Tri-Lausar? Following the Pigeonflex, Yashima Flex and Yashica Flex B, the Yashica Flex S started with Tri-Lausars and went to Heliotars followed by Yashikors for subsequent top spec models. The Yashicaflex A series was a new and separate budget model range which started with Yashimars (the only models fitted with them) and these remained into the early Yashica A model run before they too were replaced by Yashikors.
It has to be remembered that many of the cameras fitted with Tri-Lausars and Yashimars were basic cameras that have been unloved by subsequent owners. Given poor storage, some will no doubt be troubled by fungus, haze and other ailments. People looking for a cheap entry into medium format are likely to be harsh critics without sympathy for circumstances. I have seen decent photos (as much as you can tell from screen shots) on Japanese sites taken with all the triplets. Some commentators like to repeat the analogy between "Lausar" and "lousy". I think that witticism is a little well-worn and a bit excessive for the reasons already stated. Also, 45 mm Tri-Lausars were fitted to some Pigeon 35 and Pigeon V models. Any triplet would have been a comparatively mediocre choice for 35 mm cameras in which application edge softness and aberrations would be greatly magnified and that certainly would not have enhanced the lens' reputation.
From Tri-Lausar on the Pigeonflex to the first Yashikor was less than three years. Tomioka had many customers for various formats and in the beginning, Yashima would have been a small time player. Before computers, it took years to compute, develop and perfect new lens designs and even then they were usually based on what had gone before. Unless Tomioka had new designs sitting in the wings ready to go, I wouldn't expect big variations in design or performance. Prolific maker Tougodo continued to use Tri-Lausar branded lenses on its various brands of TLR. If better Tomioka triplets were available, it is reasonable to expect that maybe one of the more advanced models may have been so endowed. Of course, Tomioka may have introduced minor improvements to its Tri-Lausar range that other makers didn't make a big deal about but Yashima saw as marketing opportunities for branding changes. However, this is simply conjecture.
I have an open mind about whether any or all the differences were real or simply marketing. There are several interesting anomalies that may suggest something about Yashima lens naming. One was the Yashicaflex model C introduced in 1955 after the Yashicaflex model S had already changed from Tri-Lausars to Heliotars. This was the first model to feature the new Yashikor taking lens but uniquely, the viewing lens reverted to a Tri-Lausar. Even though it was around for another two years, the model S never changed to Yashikors. The model C sat below the model S with exposure meter. To me this suggests that either the Yashikor was simply the newer lens, or that Yashima was trying to further separate the two models by implying that the model S had superior optics, whether real or not (the budget Yashimar lens had been released only 9 months or so previously). The Tri-Lausar viewing lens is the first clue. After reading the section below on Lumaxar and Yashinon viewing lenses, is it believable that there would be any noticeable difference between Tri-Lausar, Heliotar and Yashikor viewing lenses even if there had been some minor tinkering? Why not just use the same name as on the taking lens? The second clue is that in 1956, Yashima produced the metered Yashica Hi-Mec model with the additional identifier, "Model S", inside. This presumably was planned to replace the Yashicaflex model S. Whether a prototype or not, the Hi-Mec morphed into the Yashica LM. Even though the Yashikor lens was already on a production camera released in 1955, the Hi-Mec featured Heliotars to match the existing Yashicaflex model S but when released as the Yashica LM, the lenses were Yashikors and Heliotars were never seen again. Different Tomioka implementations of the established Cooke triplet formula, or marketing games?
Triplets (Yashinon)
Not one to shy away from controversy, I have decided to include them in the hierarchy here before justifying their existence. If you read on, you will find incontrovertible proof that the 44LM Yashinons are triplets. Also, the Japanese site TLR66.com seems to suggest that the Yashinon lenses on the Yashica Auto and Yashica E (both with lower spec f/3.5 viewing lenses) were rebadged triplets and so does Japanese Wikipedia regarding the Yashica Auto. Note, "Yashinon" is a brand name, not a formula like "Tessar" and the 35 mm range encompassed many different varieties and formulas under the "Yashinon" brand.
In "Are all Yashinon Lenses 4 Element Tessar Types?" a little further down, I believe that tests (and also a correspondent in regard to the Yashica E) confirm that the Yashica Auto and E lenses are indeed triplets. Below that, in "Putting 3 Element Yashinon Taking Lenses into Context", I consider Yashica's actions in the context of both its lens naming paradigm across its expanded camera range and also the question of whether it is reasonable to expect anything more than a triplet with these models.
The obvious question for this section is, "is there a difference between Yashikors and three element Yashinons?"
In waxing lyrical about the 44LM Yashinon triplets (reference further below), Yashica states, "Lenses are good or bad, depending on whether aberration correction is perfected, how much coating processing is done, and so on." The implication is that Yashinon triplets may be more carefully finished and with better coatings than their other triplet cousins. On the other hand, there is no comment about whether the 44 LM lenses are actually different to/ better than the 60 mm Yashikors on the 44 or 44A. So the answer is, "I don't know."
Tessar Type Taking Lenses (Lumaxar & Yashinon)
A new 4 element 3 group Tessar design was introduced with the first Yashica-Mat in 1957. This was called "Lumaxar". The taking lens was f/3.5 with a focal length of 75 mm and only a little later in the same year, was replaced by 80 mm version (1957 confirmed by Japanese brochure and a Dutch ad from July 1957 already quotes 80 mm). There was a name change to "Yashinon" in 1958 (according to my database and my understanding of serial numbers, the last Lumaxar 80 was made in December 1957 and the first Yashinon was made in July 1958, i.e., there was a 6 months break in production). The main advantage over the best of the triplet lenses was greater edge sharpness, particularly when used wide open. The level of improvement is no more and no less than expected when moving from a competent 3 element standard design to a competent 4 element standard design - there is nothing magical or mysterious. Nevertheless, the sourcing of the Lumaxar lenses is controversial.
Tomioka's first lens, launched in 1932, was a 4 element Tessar type called Lausar ("The Evolution of the Japanese Camera" by Condax et al, NY 1984). Before the war, it was available in a number of sizes to suit different formats including the Proud plate camera (6.5x9 cm, 10.5 cm lens) and a number of Japanese "Semi" folders (6x4.5 cm, 7.5 cm lenses, either f/4.5 or f/3.5). There was also a 5 cm in a Leitz Elmar-like collapsible mount, most probably only for the 1937 prototypes of a 3x4 cm 127 format Leica copy (Camera-wiki.org). In a fixed mount, it appeared on several post-War 35 mm cameras. There are certainly Lausars, most probably still uncoated, which appeared on at least some early post-War 6x6 Elmoflex TLR cameras before Elmo standardised on Olympus Zuiko lenses. These Lausars are f/3.5 75 mm, just like the first Lumaxars. There was also a f/3.5 85 mm version used on several 6x6 cm folders. The Lausar was the lens that Tomioka staked its reputation on. The 3 element Tri-Lausar was introduced by Tomioka in the austere post-War period to fill the needs of the budget level mass market.
It is my belief that the Lausar, with up to date lens coatings, became the 75 mm Lumaxar as a stop-gap measure until the 80 mm version was re-computed to suit Yashima's preference for the longer focal length. The Japanese manual, Yashica Mat Photography, was printed on 25 March 1957 and issued, or published, on 1 April 1957, the month of the Mat release. It already contains lens schematics featuring a 80 mm viewing lens and 80 mm Tessar type taking lens. There is no evidence to suggest any physical or optical differences between Lumaxar 80 and Yashinon lenses and it is likely that it was a name change only (see "Real Life Experience Below").
Naming & Sourcing Controversies
Reference to the book, "The Evolution of the Japanese Camera" by Condax et al, NY 1984, is often used on the net to refute persistent stories of the Lumaxars being sourced from Germany before Tomioka took over the production and called them Yashinons. However, the only relevant comment merely states (in addition to the history of the Lausar I have quoted earlier):
"From late 1949, it (Tomioka) has become exclusive lens suppliers (sic) for the Yashica Company, Ltd."
There are two problems with that statement. The first is that there is no evidence thus far that Yashima/Yashica made any cameras before 1953 (1949 was the year of incorporation of Yashima as a company) and in a 1975 brochure, Yashica itself says 1953. The second is that whilst Tomioka may have been an exclusive lens supplier for the early TLRs, by 1957 Yashima was using whichever company had a suitable product. Yashima brochures accessible on the Brochures page feature Zunow cine lenses, one with even Zunow boxes on the cover. In Pentamatic Accessory Lenses, there is evidence that Yashica used Kyoei Optical Co., Ltd. for the 13.5 cm and longer first series ("silver nose") Pentamatic lenses and the company later known as Tokina for at least the longer focal length T-mount Pentamatic/M42 lenses (second series, or "black nose"). The Yashica YE & YF sub-page displays a Kyoei 13.5 cm Super-Acall lens together with the visually identical Super Yashinon Leica thread mount (LTM) version. There is also the little known f/2 5 cm Yashikor LTM lens which is a rebadged Leonon-S usually found on the competing Leotax S2 Elite camera. The genealogy of the 13.5 cm LTM lenses and last pair was first identified years ago by Japanese authority Mikio Awano.
So really, the statement is without merit and can't be used to support any argument.
Some of those claiming that the Lumaxars were made by Tomioka also suggest that the change of name to Yashinon was caused by a conflict with a similar registered name in the UK when Yashica was allowed to commence exports. One suggestion was that the UK company involved was Wray. Their only similar lens name that I can find is "Lustrar". Correspondent Terry Byford has pointed out that the company was more likely Corfield which used the names "Lumar" and "Lumax" for its Periflex camera lenses.
Whilst confusion between Lumaxar and Lumar/Lumax seems like a plausible cause for concern, it is relevant to note that importation of Japanese cameras into the UK before 1960 was severely restricted and that the UK would have represented a tiny volume for Yashima in the 1957 to 1958 period, assuming that any at all were imported. UK importer Photax included this note on its 1961 brochure: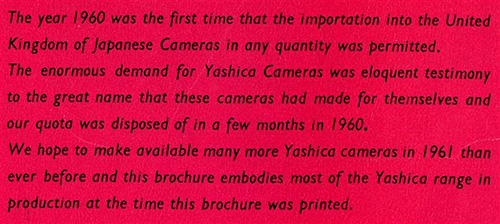 (Document image courtesy of Leigh Harris)
Would a UK 35 mm camera maker really have been challenged by a similar name, not the same name, on a very small number of oriental TLR cameras? And would Yashima really have sucked it up and complied without a fight? In 1958, rather than comply, they took on Franke & Heidecke and their main US distributer, Burleigh Brooks, Inc., over the Yashica 44's similarity to the Baby Rollei.
Whilst it affronts my sense of logic, needless to say, I have not found any hint of evidence to support, nor deny, the naming controversy. However, that's not the significant aspect of the argument. The counter view to Tomioka making the Lumaxars is that they were sourced from Germany.
The only possibly reputable claim I am aware of in support of that is, according to net sources (including Camera-wiki.org), by Mark Hama, the renowned Yashica technician who actually started work on the Yashica Mat-124G production line at the Yashica factory in Nagano, Japan, in around 1970 (pieced together from information on his website). That would make it at least 13 years after the Lumaxar period. Without any disrespect to Mr Hama, the photo on his site shows him as just one of many workers carrying out production line assembly tasks. On the other hand, he would later become Yashica's Service Manager in the US. The question in my mind is whether any of his roles gave him real knowledge of what happened in 1957? Note that there is no actual evidence offered that Mr Hama actually thinks that the Lumaxars originated in Germany let alone that he can confirm it.
When Yashica began looking for something better, why not use the available higher spec Lausar? Why go to Germany for the same design (Tessar)? It has to be considered that Yashica based its success on outstanding value, not quality at any price. However, remember also that the opposing view is claimed to be put by a seemingly credible and reputable source. A 1957 US ad states that "Yashica management searched far and wide for lenses befitting this masterpiece of camera engineering." Is that marketing speak, or did they really go beyond Tomioka? Of course searching far and wide doesn't mean that the final selection made was far from home. Choosing what seems like the more logical answer does not necessarily make it correct in terms of actual events. I have expressed my belief above but it is only that, based on my interpretation of the circumstances. Incidentally, I have attempted to do the obvious thing and write to Mark Hama but have received no response.
These are my own thoughts. In all probability, the "Lumaxar" name was coined by Yashima, not Tomioka nor some other lens maker. It probably fitted in with the same marketing idea that had created "Heliotar" and initially sought to place "Yashikor" below it (see Triplets above). The "Yashinon" seems to fit into a family of lenses; "Yashimar", "Yashikor" and "Yashinon", all with a "Yash_" connection to Yashica. The Yashinon name first appeared on the lenses of the 1958 Yashica 8T-2 movie camera (an update of the 1957 Yashica 8 with turret and single Zunow lens) and 1958 Yashica 35 fixed lens rangefinder, not the Yashica-Mat as most TLR aficionados believe. These were released in the first half of of the year while Yashica-Mat production seemed to be shut down - see "Yashinon Naming Trivia" below. Linking all the lens names to Yashica would have made sense in terms of both consistency and brand awareness. In time, "Yashinon" became more of a lens brand than lens type. In the end, I don't think it makes any real difference whether the name change was a marketing decision or whether "Lumaxar" had caused trouble in the UK market, it was more or less inevitable from a marketing perspective.
Yashinon Naming Trivia - Yasinon to Yashinon
The name "Yashinon" was first conceived as "Yasinon", i.e. without the "h", and not only did the name appear in early marketing documents, actual lenses were released branded "Yasinon". These examples are from a 1958 Japanese brochure (not on this site):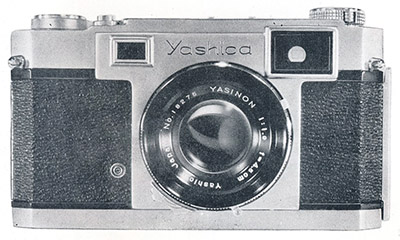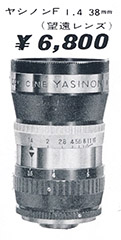 (Scans courtesy of Chris Whelan)
More evidence is found in this brochure including the cine lens boxes on the cover. Below are my own early Yashica 35 with f/1.9 4.5 cm "Yasinon" and an f/1.4 38 mm "Cine Yasinon" that was advertised in the last year or two: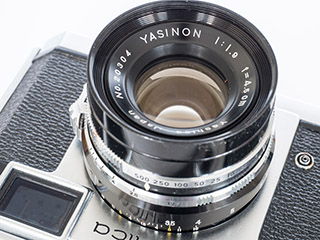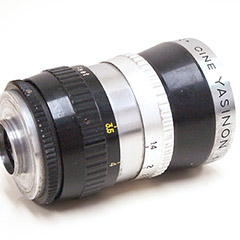 (Right detail from larger web image)
I have not found any Yashica-Mat examples and there may not be any. The serial number of the Yashica 35 suggests May 1958 production. Yashica-Mat production with 80 mm Lumaxar lenses seems to have stopped at the end of December 1957 and didn't start up again until June 1958 from when they were fitted with the new "Yashinon" named lenses. By then, the name had been revised and unlike with the Yashica 8T-2 and Yashica 35, there was no old early stock to use up.
Real Life Experiences
Correspondent Martin Jackson writes:
"I have personally fitted a rear element pair from a Lumaxar 80 mm lens to the front of a Yashinon to build one good camera out of two, where the lens was suffering separation of the glass bonding. Visually they were identical, the metal parts were identical, even down to the colour. The lens didn't need any adjusting at all, the Lumaxar rear was a perfect match to the Yashinon front, edge sharpness was identical to another camera I have fitted with an unmolested Yashinon lens, as if they were made in the same factory. All pictures from a test roll came out spot on."
If the Lumaxars and Yashinons came out of separate factories, it is extremely unlikely that such a match would have been successful or even possible. The Tessar optical design was pretty well standardised but even minor variations in optical glass used would require new computations to adjust for the different refractive indexes. I understand that the differences between German and Japanese optical glass are quite significant.
There are posts on the net that claim Lumaxars are sharper than Yashinons, mostly by Lumaxar owners. There is also a Yashica TLR Unlimited group discussion on Flickr where several owners of both cameras with Yashikor triplets in good condition and Yashinons find it difficult to tell which camera was used for which photo. Of course wide open and printed big enough, the differences become more obvious. However, I remain unconvinced that anyone can tell the difference between a Lumaxar and Yashinon photo even if a difference exists, or even between similar Tessars from different competent lens makers.
Lumaxar and Yashinon Viewing Lenses
The viewing Lumaxars are all f/3.2 as are the earlier Yashinons except the viewing Yashinons on the Yashica Auto and Yashica E which are f/3.5. The later viewing Yashinons, including those introduced with the 1965 Yashica 24 for CdS metered versions and Yashinons fitted to Yashica Ds and 635s from 1970, are f/2.8. The Yashica-Mat received the upgraded viewing lens at the same time as the Yashica D and 635 changed to Yashinons.
I am 100% certain that all Lumaxar and Yashinon viewing lenses are three element triplets, and believe that is confirmed by tests in "Are all Yashinon Lenses 4 Element Tessar Types?" below.
In true TLRS, the viewing and taking lenses are optically matched. In practice, that only means that they have the same matched focal length and viewing lenses have to be of reasonable quality to give an undistorted representation of what the taking lens is seeing. Googling will bring up a number of cross sections of Rolleiflexes showing triplet viewing lenses with 4 element Tessar type or more complex taking lenses. My understanding of Franke & Heidecke models is limited but I believe that nearly all of the viewing lenses including the Heidosmat lenses fitted to recent Rolleiflexes are triplets. In front of me as I write this is a Franke & Heidecke brochure for the late model Rolleiflex 2.8 FX with 5 element Carl Zeiss Planar lens. The "viewfinder lens" is described as 3 "uncemented elements". The two automated Rollei Magic models are minor exceptions. Whilst still having a "Heidosmat" branded viewing lens, according to RolleiClub, they have matching 4 element 75 mm Schneider Xenar lenses top and bottom. This is because unlike all other Rollei (and Yashica) TLRs, focusing is by the lens front cell only - they do not have front panel focusing. Therefore, the lenses really do have to be identical. Yashima confused matters with mainly using the same name for viewing and taking lenses. Perhaps as a nod to differences between them, they did initially start with "View-Lumaxar" and "View-Yashinon" but then dropped the "View-" in 1964. It would be unbelievable to think that Yashima would opt for a higher specification than a more refined and expensive brand that it was seeking to provide an economy alternative to.
Below left is part of a page from a Japanese brochure from 1957. The fact that the the viewing lens is an f/3.2 triplet is 100% clear (note, the camera shown is an early type with Copal MX shutter and 75 mm lenses whereas the description says 80 mm and other Yashica-Mat photos in the brochure are a mix with both 75 mm and early 80 mm lens types). On the right is a schematic that appears in a number of Yashica brochures from around 1964. The large third group in the taking lens is likely to be the cemented pair of a Tessar, although it is not shown that way. Note that the focus knob gives the impression of being on the far side and that there appears to be a Yashica Mat-LM or EM exposure meter. Either way, the viewing and taking lenses are different and match the outline of the groups in the first brochure.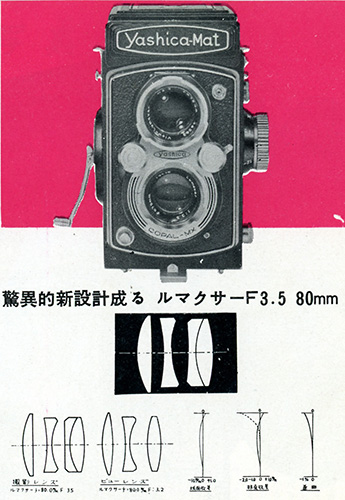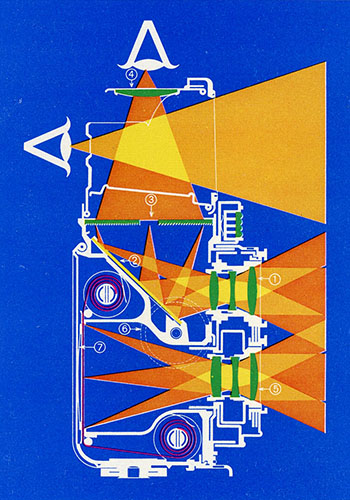 Several brochures refer to the "4 element lenses" of the Yashica-Mat. That is either poetic license or, the copywriters didn't know any better. At least the Yashica 12, Yashica Mat-124 and Yashica Mat-124G user manuals are careful to separate the taking lens from the viewing lens. Extract from late Yashica Mat-124G manual, other two use similar words and layout:

44 Models
Lenses are f/3.5 60 mm Yashikors on the Yashica 44 and 44A and Yashinon on the 44LM. The mythical Auto 44 is reputed to have f/2.8 taking and viewing lenses.
Yashica 44LM
This will be an unpopular statement but Yashica 44LM Yashinons are triplets, no question or doubts. From a very detailed 1959 Japanese Yashica 44LM brochure, the Google translation is "Yashika (sic) 44LM lens, Yashinon is a triplet type high reputation lens...". Alongside is an image of a triplet schematic: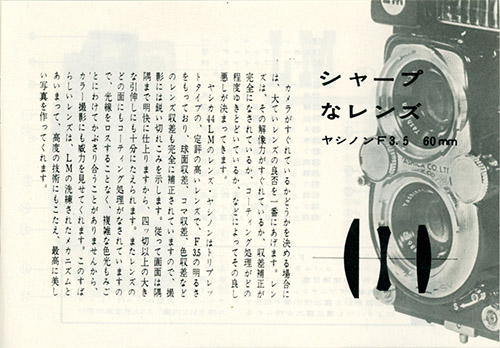 See also "Are all Yashinon Lenses 4 Element Tessar Types?" and "Putting 3 Element Yashinon Taking Lenses into Context" below. These cameras are well engineered, and it has to be said, pretty, but they were built to a price in a competitive market and the Yashica 44 was already considered expensive.
If more proof is needed, Camera-wiki.org has details of the 1959 Yashica Future 127 prototype camera which is said to have a 3 element 60 mm "Yashinon" lens (the reference quoted is respected Japanese magazine Shashin Kōgyō).
In the interests of complete disclosure, one German brochure, which appears to be published by the local distributor rather than Yashica, does claim that the lenses are 4 element.
Yashica Auto 44
The only confirmed photo is in Sugiyama's book. The brief description states, "Yashinon - f2.8, 60mm". I had always assumed that this referred to the viewing lens and the photo seems to confirm that the viewing lens is indeed f/2.8. However, I had ignored the obvious and that is that Sugiyama always quotes the taking lens aperture! Unfortunately, the aperture cannot be discerned on the taking lens, however, it is clearly special in that there is a lot more text than on other lenses including the Yashinons on the 44LM. The word "Yashica" is clearly visible (the only instance on a TLR lens that I am aware of) and I think that "Yashinon" is still there too.
Are all Yashinon Lenses 4 Element Tessar Types?
Based on documented evidence, I have already answered that in the negative but a more practical test would be reassuring. Without dismantling a lens, I believe that it is possible to demonstrate that Lumaxar/Yashinon viewing lenses and the Yashinon taking lenses on the Yashica Auto, Yashica E and Yashica 44LM are triplets. Note, that a 3 element "Yashinon" does not automatically mean "Yashikor" - see Triplets (Yashinon).
The genesis of my investigations was that at least two websites claimed that some 60 mm Yashikors have 4 lens elements (a ludicrous idea in terms of what I now know about 60 mm Yashinons), something I couldn't believe but thought that I might be able to test. The argument on the websites is based on the number of reflections that can be seen, 2 for each element so that 3 elements would display 6 reflections and a 4 element lens would display 8 reflections. The test was conducted on the taking lens with aperture wide open and shutter open on bulb. I tested a very early Yashica 44 with Yashikor lenses, a Yashica 44A with Yashikor lenses, a late Yashica 44LM with Yashinon lenses and as a control, a Yashica 24 with Yashinon lenses. I followed the procedures as I understood them. In each case, I could only find 6 reflections! That is simply because, as I read elsewhere, the test does work but 4 element Tessar types have a cemented rear pair still offering only 2 glass to air surfaces, not 4 so the reflections are the same as for 3 element lenses. Or so I thought.
The prolific Rick Oleson (http://rick_oleson.tripod.com/tessar.pdf) will tell you that it is possible to see a faint extra single reflection from the cemented surfaces (that would make a total of 7, not 8) because there is a change in refractive index at that point (the reason for 2 cemented elements instead of a single one) but that the only way to see the reflection is to isolate the rear pair by removing the group from the camera or, second best, by leaving the shutter closed and looking from the rear of the camera. On the Yashica 24 with its bigger lenses, using fluorescent tube, halogen spot and incandescent light sources alternatively, I was fairly certain that I could see the third reflection but there was also interference from light reflecting from the aperture and/or shutter blades so that was still a little bit inconclusive. I was fairly confident that the Yashica 44 with Yashikors only had 2 reflections. The Yashica 44LM was a dilemma, for a moment I thought that I really could see 3 reflections but I couldn't subsequently reproduce that scenario.
Then I was contacted by Brian Hayes who noted that his late Yashica D with Yashinon lenses produces 7 reflections for the taking lens and 6 for the viewing lens. Brian's technique is this:
"Regarding the lens reflections, a Tessar type lens will give 7 reflections, just as you mention. One will indeed be very faint (presumably the cemented interface). However, it's very easy to see the differences between a Cooke triplet and a Tessar – the Tessar will have one very large reflection and 6 small ones (one very faint), while the triplet will have six small ones, all located easily. The technique I have found to work well is to leave the back closed, open up the aperture and shutter, and point the camera at a small point light source about 10 feet away. A closet light bulb works fine for this. You will quickly see that a Yashica 44, for example, shows the exact same pattern in each lens. The D model I have shows a pattern that is obviously different and requires a bit of fiddling with the orientation to get the large reflection to show up."
It was time for another attempt.
My Test Procedure: I set each test camera to f/3.5 and Bulb. In daylight, in a dim windowless corner, I stood under a halogen down-light with me looking down at the front of the lenses which were pointed up to the light source. The focusing hood was left closed to provide a black background for the reflections.
My Procedural Test Results: With 3 element Yashikor lenses, the reflections in the viewing and taking lenses were identical. There was a stack of 3 similar reflections, another stack of 2 similar reflections plus one brighter reflection. With 4 element Yashinon lenses, the reflections in the viewing lens were the same as with the Yashikor, both in appearance and the fact that only 6 reflections could be found. However, as predicted by Brian, there were two differences with the 80 mm Yashinon taking lenses. The second stack of 2 reflections was joined by a very, very faint (maybe small is a better description) third reflection but most noticeably, the single brighter reflection was much bigger than its counterpart in the viewing lens. This was by far the most striking difference.
My Camera Test Results: The Yashikor taking and viewing lenses on a Yashica 44 and Yashica 44A tested identically with 6 reflections as expected from their specs. Surprisingly (at the time, I hadn't yet seen Yashica's 44LM brochure), the Yashinons on the Yashica 44LM also produced near identical reflections in both each lens and to the pattern of the other two. The results suggest that all the 60mm lenses are triplets, although not necessarily that the Yashinons are identical to the Yashikors. The 80 mm Yashica D Yashikors performed as expected, i.e., the pattern of 6 reflections were near identical in each lens and very similar to the pattern in both types of 60 mm lens. A Yashica-Mat with 80 mm Lumaxars and a Yashica 24 with 80 mm were also tested. These both produced near identical results to each other with the viewing and taking lens patterns differing as described above, i.e., the taking lens had a a very faint/small 7th reflection and the bright reflection was quite noticeably bigger. Therefore the 80mm Lumaxar and Yashinon viewing lenses behave as expected for a 3 element lens and the respective taking lenses behave as predicted for a 4 element Tessar type.
Photographic Results: I repeated some of the tests and attempted to photograph the results. It is difficult to to get full sets of both viewing and taking lens reflections in the frame at the same time. The spurious smaller reflections, generally towards the edges, are from another downlight in the room that I was trying to photograph in:

Yashica 44LM 60 mm Yashinons

Yashica D 80 mm Yashikors

Yashica-Mat 80 mm Lumaxars

Yashica 24 80 mm Yashinons
The unwanted reflections probably leave some doubt so I re-shot the Yashica 44LM, Yashica 24 and added the Yashica 44A. In order to compare like with like, I have left both sets of photos in: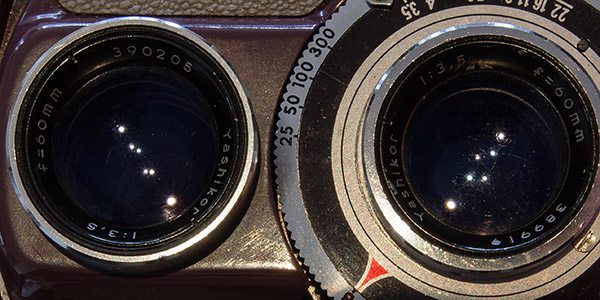 Yashica 44A 60 mm Yashikors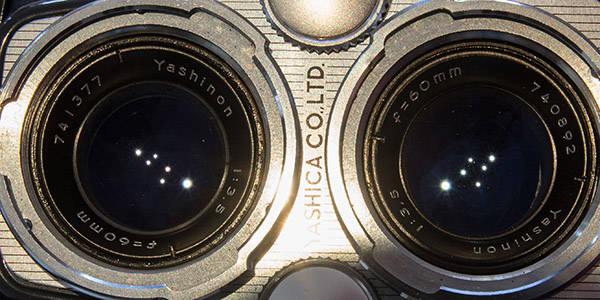 Yashica 44LM 60 mm Yashinons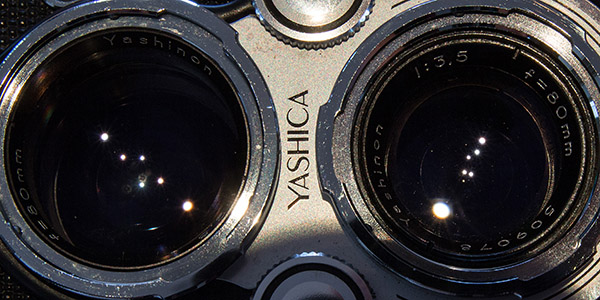 Yashica 24 80 mm Yashinons (angle 1)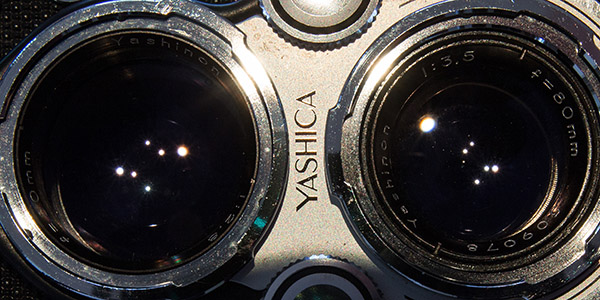 Yashica 24 80 mm Yashinons (angle 2)
Note that the elongated reflection in the Yashica 24 viewing lens shots directly above is from the rear edge of the lens assembly (clear from other full resolution shots) plus there are the inevitable dust spots too.
Yashica Auto: Contributor Leigh Harris has performed the test on a Yashica Auto and has found a similar pattern to the Yashikor triplets.
Yashica E: Correspondent Tony Waterhouse, who has been collecting and repairing Yashica TLRs for 10 years, has dismantled and overhauled his Yashica E and has confirmed that the lenses are indeed 3 element triplet types. The Yashica E presents a difficulty for testing in that it doesn't have a Bulb setting. Being a little more expert in reflections now and armed with Tony's information, I decided to attempt Rick Oleson's method again. This time, I could easily find 3 reflections for the Yashica 24 rear group (which confirms my rather more tentative first attempt noted above) but only 2 for the Yashica E (not originally tested with Rick's method).
Putting 3 Element Yashinon Taking Lenses into Context
Yashica renamed their Lumaxar Yashica-Mat lens to Yashinon in 1958. TLR enthusiasts and commentators have ever since equated the "Yashinon" name with the 4 element Tessar type formula. But what really happened? In 1957, Yashica released the Yashica 8 movie camera, in 1958 the fixed lens Yashica 35 rangefinder and in 1959, the first of the Nicca based rangefinders, the YE. I don't know much about the 8/8T cine lenses except that initially, they were Zunow supplied and branded with f/1.9 apertures, followed by new Cine Yashinons in early 1958 with f/1.4 apertures and then the Yashica 8S was fitted with an f/1.9 Yashikor that appears to be identical to the same spec Zunow. I doubt that Yashica named these Yashinons and Yashikors according to the number of elements per se, probably more about positioning in terms of performance and price.
With the Yashica 35, the lens was a Yashinon f/2.8 or f/1.9. From Yashica's own brochure, the f/2.8 has 5 elements in 4 groups and the f/1.9 has 6 elements in 4 groups. The YE, a premium camera, was sold with an f/2.8 Yashikor and the subsequent YF with an f/1.8 Yashinon/Super-Yashinon. There are claims that the YE f/2.8 Yashikor is 4 elements in 3 groups, i.e. a Tessar design, and also that it is is a 5 element Xenotar design. In fact, a Japanese collector's magazine claims that there are two versions, one of each and inspection seems to confirm that. Either way, it's not a triplet. There is also a rare f/2 5 cm Yashikor LTM mount that has been found occasionally with the YF model - sitting above the f/2.8 and below the f/1.8 Yashinon. In this period, "Yashinon" seemed to be reserved for the more premium of the lenses and "Yashikor" for the more basic with no direct link to the lens design or number of elements, but then pretty soon, "Yashinon" seemed to take over as the brand name for all Yashica's lenses, although noting that there were some later budget M42 Yashikors too (with the TL-Electro, Yashica advertised four Yashikor lenses with total elements ranging from 4 in 4 groups to 7 in 6 groups).
With the new cameras and branding ideas, existing models didn't change so we are used to the idea of Yashica Ds and 635s continuing into the late 1960s with 3 element Yashikors but many are not aware of Yashica, for instance, releasing the 35 mm Flash-O-Set in 1961 with confirmed fixed focus 3 element Yashinon. Rather than a specific intention to deceive, release of new TLR models from this period forward also featured the "Yashinon" name in line with the new practice. Some were Tessars as on the Mat-LM and EM, 24, 12, Mat-124 and Mat-124G and some were triplets as on the lower price Yashica Auto, Yashica 44LM and Yashica E. As a camera maker, Yashica probably saw no inconsistency with the rest of its range whereas half a century of commentary later, we with our 21st century rose tinted TLR glasses feel cheated by 3 element Yashinon triplets. But rather than blaming Yashica, perhaps it is reviewers and commentators who have raised our expectations to unrealistic levels in the past that are at fault.
To put the value equation into perspective, the rare and pretty in grey Yashica Auto with crank wind, whilst expensive for collectors now, was two thirds the price of an otherwise identical Yashica-Mat. The Japanese market Yashica 44LM was more expensive than a Yashica 44 with Yashikors (14,500 yen compared to 11,800 yen) but as well as an exposure meter, it added other refinements including automatic frame start, just like contemporary 66 models. The export versions with red window and manual reset may have reversed the price difference - the 1959 Sears catalogue lists the 44 at US$68.88 and the 1961 catalogue lists the 44LM at US$59.99. The Yashica E was designed for the novice with a price only a fraction above the Yashica A (in some markets at least) whilst at the time, the more expensive enthusiast level Yashica D and 635 had to make do with Yashikors until 1970. So why would Yashica fit a 4 element lens to any of these and indeed, how could it afford to at a time when TLRs were already struggling against the 35 mm onslaught? Yashica was successful with its TLRs because it kept volume up and prices down - the margins were small.
A circa 1964 brochure that I have downloaded from the net advertises the Yashica-Mat with "Yashinon 80 mm 4-element coated, color corrected lenses" (very unlikely to be correct for the viewing lens) and states that "the Yashica Mat-LM is exactly the same in all features, but includes a built-in uncoupled exposure meter". The Yashica E is simply advertised with "matched Yashinon 80 mm f/3.5 lenses, color corrected and hard coated". The Yashica 44LM uses the same description except substitutes 60 mm. The Yashica A, D, 635 and 44A use the same descriptions as the Yashica E and 44LM except with "Yashikor" substituted for "Yashinon". Even the Yashica E brochure only says "YASHINON f/3.5, 80 mm matched lenses". I have seen no official Yashica advertising material which claims that the Yashica E or Yashica 44LM have 4 element lenses (the only Yashica Auto ad I have seen is in Japanese) although there is one German 44LM brochure published by the local distributor which does make the claim.
Why doesn't this get mentioned on other sites? As noted, at least two Japanese sites have picked up on it. They probably know a thing or two and don't have to rely on Google translations. Yashinons were first released as 4 element Tessars and I think that with clever marketing relying on vague details, assumptions have been made and repeated ever since.
Swapping Lenses
There is little more frustrating than possessing a beautiful, or even ratty, fully working camera with a damaged lens. There are no repairs possible, only lens replacement. Providing a donor camera can be found, it's not a complicated process, particularly if the donor is the same model and of a similar age. However, even if the lenses are of the same type, if they are of different ages and/or belong to different models, things may not be so rosy. Correspondent Peter Robinson tells this salutary story (edited shorter):
"I recently had a need to replace a Yashinon (80mm f/3.5) taking lens in a Yashica Mat-124. Someone had cleaned the lens with sandpaper it seems and it was unusable. I had a spare lens which I intended to use as a replacement. Unfortunately I don't know what camera it came from as I removed it a long time ago (from the lens number, December 1961 Yashica-Mat). I found the older, replacement, lens would not work with the shutter of the Mat 124 – the rear lens group fouled the aperture mechanism. On inspection, the rear group sits around 1mm further into the shutter than the rear group of the later, original, lens. There is a very slight difference between the two front groups but only about 0.2mm as near as I can measure. My conclusion is, the shutter the older lens came from has a different mount for the rear lens group which pushes the group back a little further. I'm assuming the optical formula of the two lenses is the same so the difference has to be in the way they are mounted.
As an aside, I might also mention that I initially tried to fit a Lumaxar 75mm in place of the 80mm. It doesn't work of course because of the different focal length that requires the lenses to be mounted closer to the film plane. Examining the camera the Lumaxar came from I noted the focus racks (that the front standard is attached to), are shorter and the bezel around the front standard is shallower. This all makes perfect sense but is something I've never noticed before."
Filter Mounts
The type/size of mount fitted to each model is identified in the table at the top of their respective entries on the 66 Models and 44 Models pages.
Plain Mounts
The filter mounts on the original models and most of the budget Yashicaflex A series models plus Yashica Rookie and A were plain push-on 32 mm types. The Yashicaflex A2, Yashicaflex A (new model) and Yashica B have plain filter mounts but with a cover plate or faceplate over the shutter like Bay 1 models. These three have plain 36 mm push-on mounts. An earlier camera with the cover plate, the very rare Yashicaflex A-III, still has the standard 32 mm mounts. The Yashica 44A has smaller 28.5 mm plain mounts.
Bay 1 Mounts
Starting with the Yashica Flex model S, top spec and most mid-spec models were fitted with Rolleiflex Bayonet 1 type mounts (there are also sizes 2 and 3 for larger Rollei glass) commonly referred to as Bay 1 and also known as B30 or 30 mm bayonet. These have both inside and outside bayonets and are aligned the same way top and bottom on 66 models but the bottom taking lens bayonets are rotated 180 degrees on 44 models. There are three spring loaded pins (two visible in both left and right photos a little further below) located near the internal bayonet slot to positively locate with the indentation on the bayonet tab of the mounted accessory (viewing close-up auxiliary lens shown):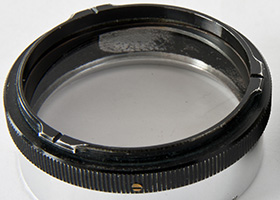 There is also a single fixed pin, visible to the left of the bottom spring pin in the two photos below to provide a positive stop once the accessory has been rotated clockwise. Yashica Bay 1 lens hoods make use of the external bayonets. The hoods have a spring loaded washer to provide positive securing grip so the action is to push and turn and there is also some sort of positive stop, although I'm not quite sure how that works. There is more about Bay 1 mounts and issues with the Yashica outside bayonet tabs in Accessories, Yashica TLR.
There is also an interesting anomaly. The photo of the Bay 1 mount on the left belongs to the first Yashica Flex model S with Copal shutter in my database. The internal pin alignment seems to be the same as Franke & Heidecke models and the same as earlier Yashica Flex model S examples with NKS shutter, late Yashicaflex model S examples with the new long strap holder body style and all other Yashica models with Bay 1 mounts and probably all Bay 1 mounts by other makers. However, my example of the Yashica Flex model S still with early body but new style graphics already, serial number 30769, only some 500 cameras later than the left example, has a different pin alignment. Instead of the pins being aligned to the left of the top slot, they are aligned to the to the right. The pair below look like mirror images but note, the text is not reversed. The only other example I have been able to find is the next camera in the database, 308xx, so it was certainly a short-lived experiment.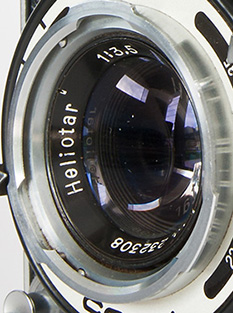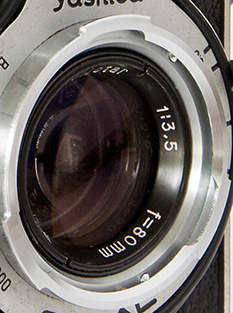 Normally, you mount the accessory and twist clockwise approximately 90 degrees. With the different alignment, the twist is still clockwise to lock but the rotation is only the width of the tab, maybe approximately 30 degrees. Perhaps Yashica was trying to improve on the Rollei design but whilst it doesn't matter with some accessories, it does render the parallax correction of the Yashica close-up sets useless. It is possible to use the hinged metal lens caps (not original to this model) but they have to be rotated anti-clockwise.
Yashica E
The Yashica E is unique with a 52 mm screw-in filter thread around the outside of the selenium cell. Unlike for all other models, there is no provision for fitting accessories to the viewing lens.
Bokeh
Bokeh is a complete subject in itself and to a large extent it is very subjective and depends on what is pleasing to the individual. I don't intend to discuss it other than to mention certain features of Yashica TLR models that affect it one way or another. I might add that I have seen few complaints with regard to Yashica TLR bokeh but neither have I seen raving praise. I take that to mean that the bokeh can generally be considered pleasant but not something to die for.
Sometimes bokeh is taken to mean how the out of focus highlights are rendered, largely determined by the shape of the lens aperture which in turn is affected by the number of aperture blades. For example, just like the Franke & Heidecke cameras, some Yashica models have 5 bladed apertures, which can result in pentagonal shaped out of focus highlights, and others have 10 blades which result in more circular highlight rendering. The following section on shutters has more detail. It should be noted however, that shooting wide open when the out of focus highlights have the greatest impact (at the shallowest depth of field), the aperture blades are withdrawn from the light path and the aperture is effectively circular. Also, both 5 and 10 bladed apertures in Yashica TLRs have curved blades, although as the aperture size decreases, the pentagon formed by the 5 blades becomes more accentuated.
Most definitions of bokeh are more complex but in some respects, also more subtle. As well as highlight rendering, whether the bokeh is pleasing or not can be affected by the particular foreground and background detail, lighting and colour. The traditional Japanese appreciation of bokeh is also very much related to tonal gradation. Apparent sharpness and resolution of a lens do not necessarily contribute positively to bokeh, in fact in some circumstances, they can be detrimental. It also depends on the priorities of the lens designer.
One form of bokeh which seems to be sought by some for some subjects and avoided by others is often called "swirly bokeh". The reality is that this effect is the by-product of less than perfectly corrected lenses. It is most commonly found in triplet type lenses but less so in Tessar types.
Below is an example of swirly bokeh in a lovely photograph shot by correspondent Bill Barr using a Yashica 635 with Yashikor lenses that his father bought in the late 1950s: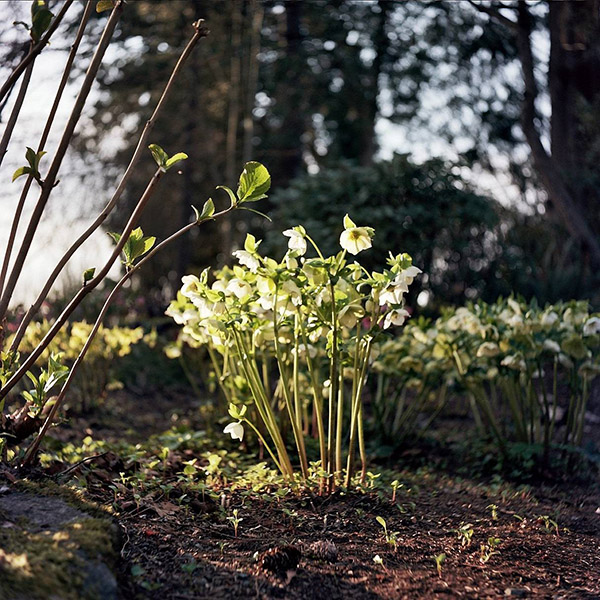 (Image courtesy of Bill Barr)
For the full-size image and more great examples, see Bill's "Testing a Yashica TLR Camera After 55 Years in Storage".
An example of the smooth bokeh of a Yashinon fitted with close-up lens can be found in One User's Experience.
Shutters
The table below lists all the shutters, including variations, fitted to Yashima/ Yashica TLRs. Apart from perhaps the single speed Yashica E shutter, the origins of which are uncertain but could be Yashica itself, these were all bought in from specialist suppliers. Unnamed shutter models are not known to have a model designation.
Brand

Model

Slow
Speeds

Speed
Range


Flash Sync


Self-timer

Camera Models Fitted To:

NKS

Yes

B,1-1/200

Yes

Yes

Pigeonflex, Yashima Flex
SYK

Yes

B,1-1/200

Yes

Yes

Yashimaflex
NKS

TB

Yes

B,1-1/200

Yes

Yes

Yashima Flex
NKS

FB

Yes

B,1-1/300

Yes

Yes

Yashima Flex, Yashica Flex B & S
Copal

Yes

B,1-1/300

X

Yes

Yashicaflex S & C
Y.S.K.

No

B,1/10-1/200

Yes

No

Yashica Flex A-I & A-II
Copal

No

B,1/10-1/200

X

No

Yashicaflex A-I & II, AS-I & II, Molfo
Seikosha

MX*

Yes

B,1-1/500

M/F/X

No

Yashicaflex A-III
Citizen

MXV

Yes

B,1-1/400

M/X

Yes

Yashicaflex A2, AS, Hi-Mec
Copal

No

B,1/25-1/300

X

No

Yashica Rookie, A, A III, 44A
Copal

No

B,1/25-1/300

X

Yes

Yashicaflex A, Yashica B
Copal

MX

Yes

B,1-1/300

M/X

Yes

Yashica C & LM
Copal

MX

Yes

B,1-1/500

M/X

Yes

Yashica-Mat
Copal

MXV

Yes

B,1-1/500

M/X

Yes

Yashicaflex A-III & A2, Yashica-Mat, Yashicaflex B, Yashica D & 635, Yashica Mat-LM & EM
?

n/a

1/60

X

No

Yashica E
Copal

SV*

Yes

B,1-1/500

M/X

Yes

Yashica 44, 44LM, Auto 44, 24, 12, Mat-124, Mat-124G, Mat-124B
Note 1: Yashima specs list the Yashicaflex A-III as having a "Seikosha Rapid" shutter with "Flash Synchronization (MX)" whereas the one found example is fitted with the "Seikosha MX", my understanding being that this is what a Rapid with MX sync is called. In any case, the shutter has a switch for M, F and X sync delay with "F" being for short duration flashbulbs.
Note 2: Two 1961 Yashica-Mats with close serial numbers (plus a third mentioned in a forum) have been found with "SV" marked on the faceplate, see "A Most Unusual Camera and Shutter". Copal SV & MXV shutters seem to operate more or less identically and use similar/same parts when configured the same but the SV is more flexible in terms of what features are requested by the camera manufacturer.
All Yashima/ Yashica TLR models use leaf, or diaphragm shutters as they are also called. Early and basic models use what are commonly referred to by some as "rim set" types based on the shutter speed being changed by rotating the bezel but later types hidden under covers and sometimes adjusted by control wheels use linkages to basically operate the same way. As lenses with leaf shutters form a discreet unit with the shutter fitted between lens elements, it is often said that "x lens is in a y shutter", e.g., "Yashikor lens in a Copal MX shutter". In Yashica TLRs with triplet lenses, the shutter is between the second and third (inner-most) lens element. With the Tessar types it is between the second and third element also, the third and fourth elements being a cemented rear pair or group.
I'm not a shutter expert but it is claimed by others that most/all Japanese leaf shutters were copies of either the German Gauthier made Prontor or F. Deckel made Compur types (separate companies with significant Zeiss shareholding in each and eventually both owned and merged by Zeiss). For example, it is said that Copal shutters are influenced by Prontor and Seikosha by Compur. At different times, Yashima/ Yashica used different models from (or branded) NKS, SYK, Y.S.K. (logo is "Y.S.K", all full stops included in a Japanese ad for the A-II), Copal, Citizen and Seikosha (Seiko of Seiko watches and Seiko Epson these days, no link to Seiko Electric Industries, the original maker name of Sekonic exposure meters). The last three companies are relatively well known. Copal exists today as Nidec Copal Corporation, having been acquired by Nihon Denshi in 1998, and amongst its portfolio of products, produces shutter assemblies for digital cameras. Until quite recently, it continued to manufacture leaf shutters for large format cameras. In the 1950s, it was called Copal Koki Co,. Ltd. Copal shutters were first used by Yashima at the end of 1954, or beginning of 1955, and exclusively in models released from 1958 on. NKS shutters, said to be a copy of a Prontor II, were made by Nippon Kosokki Kogyo, maker of Taron cameras (Camera-wiki.org). Ad below is from a 1954 Asahi Camera magazine, the company name at the bottom is confirmed as Nippon Kosokki Kogyo Co., Ltd.: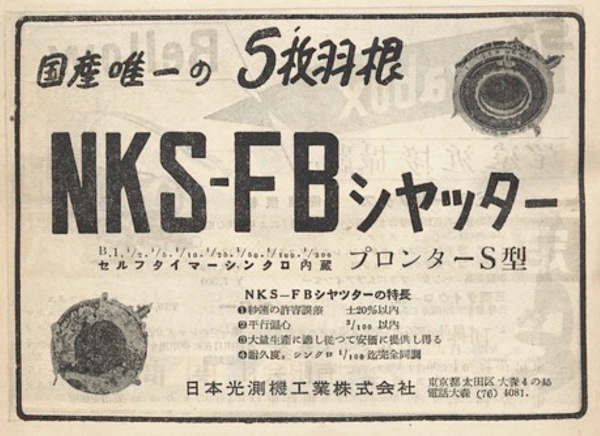 NKS shutters were widely used by many of the smaller Japanese camera brands and Yashima used them on its first four models, although the earliest example of a Yashimaflex has been found with an SYK shutter. I can find no reference to such a shutter anywhere at all although the letters could be related to pre-War S.Y.K Palma cameras made by Kyūreidō (Camera-wiki.org). Until Tom Heckhaus sent me a picture of his early Yashicaflex A-II, I was blissfully unaware of the Y.S.K. brand. More examples have come to light and it is now clear that it was also used on the first Yashicaflex A-I examples. The only other camera that it has been seen on is the Semi Renky made by Rengō Kōki. Examples and the little that I have found out can be found in the "Yashicaflex A-II" entry on the 66 Models page. Specs are the same as for the equivalent Copal.
Early versions of the Yashicaflex A series cameras, the models A-I, A-II, AS-II and MolfoReflex (and presumably the unseen AS-I) were fitted with basic rim set shutters (first Y.S.K. on the A-I and A-II and then Copal on all) with a cable release socket where the push button release is on later cameras and other models and a direct acting lever at the bottom of the shutter, see Cable Release and Press Button Shutters.
Note that depending on the shutter, aperture scales can be upside down compared to others (e.g. early and basic Copal compared to NKS, Y.S.K. and even Copal MXV on late Yashicaflex A2 examples) and speed and aperture scales can be reversed (Copal compared to NKS-FB on Yashica Flex S).
Available shutter speed ranges depend on the shutter type fitted to particular models and are covered in both "Models & Specs" as well as the table at the top. Some models have click stops for speed (typically those with control wheels), others don't (typically rim set types) but there are no "in-between speeds", the speed set is the closest marking. There was a change in the speed progression from the "old" range which with Copal shutters includes 1, 1/2, 1/5, 1/10, 1/25, 1/50, 1/100 and 1/300, or 1/250 plus 1/500 (the basic A series cameras, Rookie and Yashica B had a more limited range, first 1/10 to 1/200, then 1/25 to 1/300, all based on the old scale) to the "modern" range which substitutes 1, 1/2, 1/4, 1/8, 1/15, 1/30, 1/60, 1/125, 1/250 and 1/500. This started occurring from 1958 with the release of the Yashica 44 with the new SV shutter . The Yashica-Mats, Yashica 635s and Ds with MXV shutters were slower to change. I have two earlyish Yashica D user manuals and these show the new speeds already but correspondents Jim Hurtle and Tim Samuelson both note that their Yashica Ds, both with serial numbers D 1020xxx, still have the old speeds. I date these cameras to February 1961. The first Yashica Mat-LM user manual from late 1959 shows the old speeds but my MTL 2011357 has the new speeds (early 1962). Correspondent Bill Walker has provided me with details of his highly unusual Yashica-Mat from October 1961with "SV" marked on the faceplate (more details below including a second one found). This has the new speeds already. Its user manual shows the old speeds but it came with a loose "Errata" insert listing the revised speed range: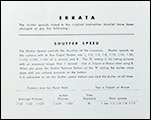 (Document image courtesy of Bill Walker)
(Click on "Errata" insert for larger image)
Note that the Yashica A and 44A with their more basic Copal shutter and limited speeds starting at 1/25, did not change.
Copal Shutters
Copal started in 1946 as a private venture to design a shutter for the still-born Nippon Kōgaku (maker of Nikon cameras) Nikoflex TLR project. According to Camera-wiki.org, its first commercial application was on the Olympus Chrome Six folding camera after the model's initial introduction in 1948.
An early 1950s ad by William B. Bate & Son, Inc. for a Walz made Wagoflex TLR quotes the shutter as "COPAL (Prontor type)" with specs similar to the type fitted to the Yashicaflex C: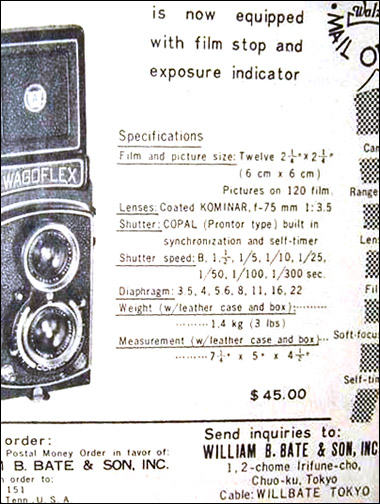 (Detail from larger web image)
On the left below is a Copal ad placed in the April 1957 edition of the US magazine, Popular Photography (same month as the Yashica-Mat was released and yes, Yashima did place an ad too). Cameras specifically mentioned include Mamiya, Olympus, Yashicaflex, Walz and Beauty. On the right is zoomed-in detail from the bottom right corner of the first image: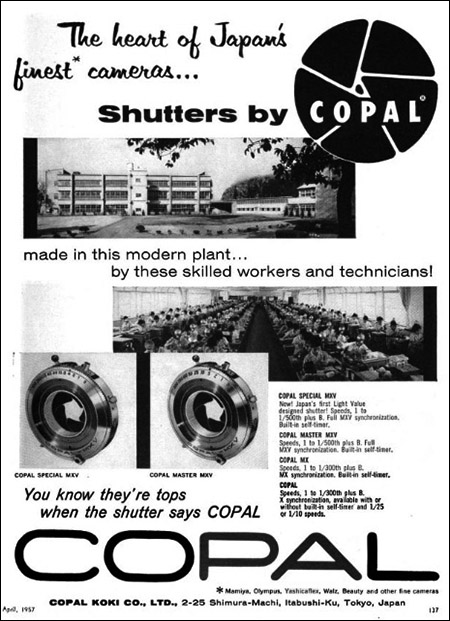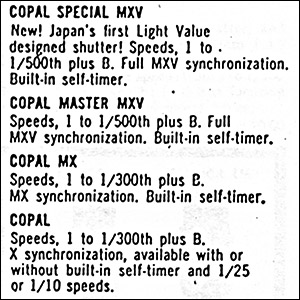 (Right image scan courtesy of Tom Heckhaus)
As they apply to Yashima's models, I interpret Copal's 1957 models thus. The plain Copal shutter can vary from quite basic to similar to the MX in specs except it has no M flash sync provision, only X sync. In its most basic form, it is fitted to the the Yashica Rookie and Yashica A released in 1956 and has the 1/300 top speed, low speeds starting from 1/25 and no self-timer. The same shutter is used on the 1957 Yashicaflex A (new model) and its clone, the 1958 Yashica B, but with self-timer now added. An earlier version of this shutter with 1/200 top speed was used on the Yashicaflex A-I, A-II, AS-I and AS-II models, initially in cable release form, then with press button. Like the Yashica A and Rookie, there is no self-timer, however, slow speeds started at 1/10.
This same shutter, with more components installed, is used on the 1955 Yashicaflex S and C. These were Yashima's premium models and in those applications, the shutter features a full range of slow speeds down to 1 second, a top speed of 1/300 and a self-timer.
I don't know how much of the Copal MX was new, but specs-wise at least, it matches the top spec plain Copal and adds provision for lever selectable M sync added to the standard X sync. The shutter delay for M sync was incorporated by utilising the self-timer escapement so that M sync and the self-timer could not be used simultaneously. This implementation and weak lock-out design would plague this and subsequent Copal models including the SV. Top speed is still quoted at 1/300 and there is a full range of low speeds and self-timer. These shutters appeared on the Yashica C and LM in 1956. A version of the MX with 1/500 top speed (not mentioned above) is found on the first Yashica-Mat examples.
Below left is a drawing of a Copal shutter from the 1957 Japanese language Yashica-Mat user manual and on the right, an image of the shutter on the Yashica-Mat page of a slightly later 1957 Japanese brochure. The shutters appear more or less identical but there is no way of knowing whether one or the other or both are MX or MXV types.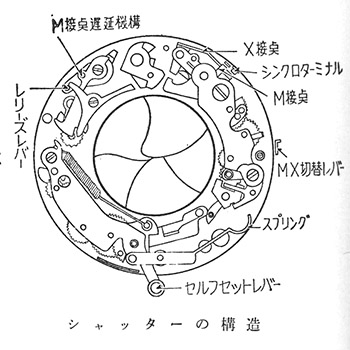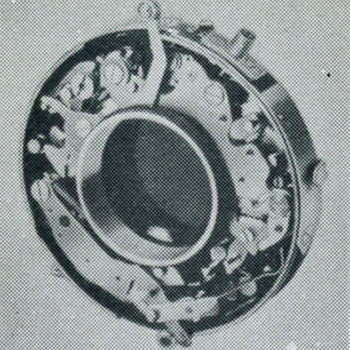 In the ad above, the Copal Master MXV is quoted as having "full MXV synchronization" as opposed to simply "MX synchronization" on the lesser model. What does that mean? M and X are flash sync delay settings. "V" is commonly found on German shutters and indicates "self-timer". As we have seen, both the basic Copal and Copal MX were already available with self-timer so what was the real change? Or was it simply a marketing ploy to invoke the name of the famous German "Synchro Compur MXV"? In the same vein, the later Copal SV, first used on the Yashica 44 in 1958, seems to allude to the Compur competitor, the almost equally famous "Prontor SV" and in which case "S" signifies flash sync (the Prontor naming doesn't differentiate between M and X sync) and "V" again means self-timer. In Copal MXV vs SV further down, the evidence suggests that the Copal MXV and SV share the same basic design and even some of the components but that the SV offers a more flexible modular assembly for different configurations. Certainly, the model names shouldn't be considered to indicate different features as they did on their German namesakes, particularly regarding presence of self-timer or not or which German type may be the influence (undoubtedly, the Prontor for all Copal variations).
Warning
As well as the warning under Flash Sync further below (about not using the self-timer with sync set to M), correspondent David Fisher has informed me that when he recently sent his Yashica D for a CLA, the well known USA based camera tech Mark Hama noted that if the MXV shutter is cocked with the speed set between B and 1 second, "severe damage results". It is not known if this also applies to SV, MX and earlier shutters but their designs are similar.
Apertures
The shutter assembly also contains the aperture mechanism. This is located behind the shutter blades, except in the Yashica E where it is in front, and therefore for all models except the Yashica E, the aperture blades/iris can only be viewed from the rear of the lens or with the shutter open on bulb. The maximum aperture of the taking lens is determined by the lens design but with common leaf shutter arrangements, the narrower apertures (bigger numbers) are determined by the shutter design. All shutters on Yashica TLRs have apertures marked with the "modern" progression f/3.5, f/4, f/5.6, f/8, f/11, f/16 and f/22. Copal SV shutters on 66 Models from the 1965 Yashica 24 onward add f/32. Note that the apertures are continually variable and there are no click stops so that the markings are nominal only.
5 and 10 Bladed Apertures
The one variation with apertures is whether they have 5 or 10 blades. In either case, the blades are curved. All the early Yashica TLRs have 10 blades regardless of shutter make or type. All TLR models fitted with Copal SV shutters have apertures with 5 blades (except Bill Walker's 1961 Yashica-Mat and one other, more details below). These include the Yashica 44 and Yashica 44LM introduced in 1958 and 1959 respectively and the following cameras introduced from 1965 on; Yashica 24, Yashica 12, Yashica Mat-124 and Yashica Mat-124G and 124B. The Yashica E also has a 5 bladed aperture. Earlier Yashica TLRs fitted with Copal MXV shutters definitely have 10 blades. These certainly include Yashica-Mats, Yashica Ds and Yashica 635s made until at least the mid-1960s, possibly up to late 1968, and all Yashica Mat-LMs and EMs. The more recent Yashica production of models with Copal MXV shutters, including all those fitted with f/2.8 Yashinon viewing lenses (i.e., those made after mid-1970) and some still with f/3.2 Yashinon viewing lenses and f/3.5 Yashikor lenses, possibly all those from late 1968 onward, also have apertures with 5 blades. Photographs of Yashica Ds confirm that. Contributor Leigh Harris has confirmed that his late Yashica-Mat with f/2.8 viewing lens has a 5 bladed aperture and I have photos of two others. Leigh has also confirmed that the minimum aperture on his late Yashica-Mat is still f/22 rather than the f/32 of the CdS models with SV shutters.
Correspondent Martin Jackson has provided images of the apertures of his early Yashica-Mat with MXV shutter with 10 aperture blades and his very late Yashica D with Yashinon lenses and MXV shutter with 5 aperture blades (note, both lens/shutter assemblies are shown with the rear lens pair removed) whilst correspondent Chris Gover has provided a photo of his late 635 with Yashikor lenses still (last Yashikor 635 example in my database) and also 5 bladed aperture: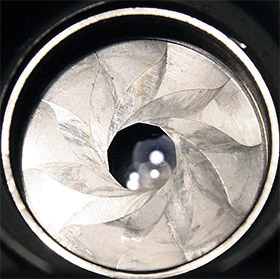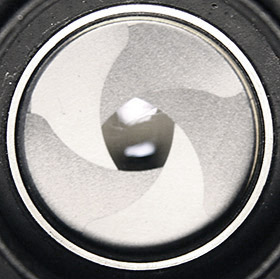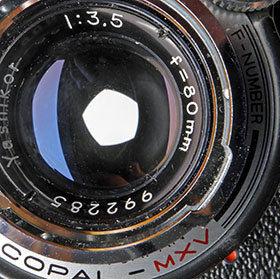 (Images 1 & 2 courtesy of Martin Jackson, image 3 courtesy of Chris Gover)
Both Martin's apertures are set at f/11, Chris set his at f/8. Even with curved blades, the 5 blade type has a distinctive pentagonal shape. However, in case later model owners feel short-changed, Rolleicord models I to IV have 10 blades, later models V, Va and Vb have 5 blades. I am not very familiar with Rolleiflex specs but understand that the 2.8D and later cameras also have apertures with 5 blades. On Rollei forums, owners with 10 blades feel superior bokeh-wise and those with 5 blades, and perhaps superior lenses, play down the importance.
A Most Unusual Camera and Shutter
Correspondent Bill Walker from the UK has written to me about the Yashica-Mat his father bought new. The serial number MT 1100146 suggests that it was made in October 1961. Unlike nearly all the cameras around it and nearly all other Yashica-Mats in my database, it has a Copal SV shutter, at least that is what is very clearly marked on the faceplate. There are other examples of Yashica introducing a change and then abandoning it almost immediately (two that come to mind are the introduction of black radial control wheels to the Yashica 635 and introducing 7 digit taking lens numbers with an "EM" prefix on some early Yashica Mat-EMs, details elsewhere on the site). Although tempting to think that the faceplate had been replaced with a donor from a Yashica 24, 12 or Mat-124, the faceplate is unique and not found on any other models and apart from the "SV", looks like any other Yashica-Mat faceplate: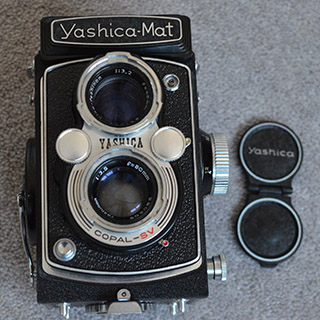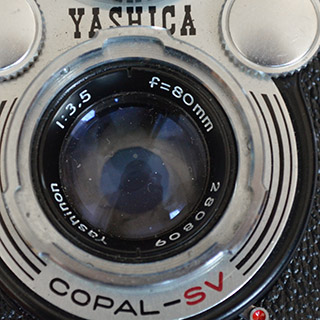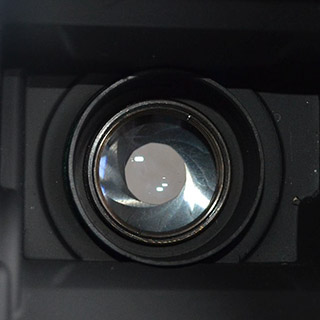 (Images courtesy of Bill Walker)
I have also found reference in a Flickr Yashica-Mat forum to someone discussing a similar camera. Unlike the later CdS exposure meter models, the minimum aperture is f/22 like the MXV shutters as are the 10 aperture blades. At this stage, I am convinced that this is a 100% genuine Yashica produced anomaly of some sort and that the very well looked after camera matches its equally well looked after original packaging and kit.
As detailed in "Copal MXV vs SV" below, the SV can be configured to be virtually identical to the MXV so operationally there should be no difference to other Mats.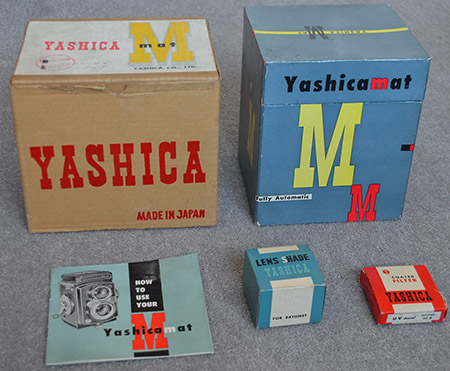 (Image courtesy of Bill Walker)
There is a post-script to this story. A second actual example has now surfaced at auction in Brazil. Many of the TLRs offered for sale there have had a long and tough life but this one too appears to have been well maintained and is complete with its lens caps, ever-ready case, presentation box and user manual: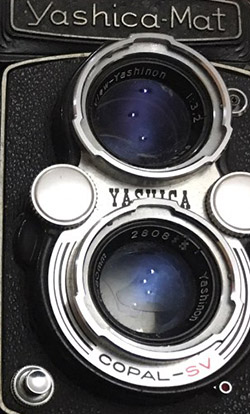 (Detail from larger web image)
The taking lens number is less than 10 different to Bill Walker's camera (body number not visible). Finding a second example is very significant from a provenance perspective but it doesn't help with answering any of the questions.
Copal MXV vs SV
As used on Yashica TLRs, maximum and minimum shutter speeds, apertures (except minimum apertures on CdS models) and flash sync specifications of the two shutters are identical. My understanding has always been that Copal MXV and SV shutters are very similar but that the SV has been described as having fewer parts. Until Bill Walker's Yashica-Mat turned up, there seemed to be a correlation between "fewer parts" and only 5 aperture blades on the SV compared to 10 blades on the early MXV shutters. However, the reality is that there are SV shutters with 10 bladed apertures found on 35 mm models. The MXV was a development of the earlier MX and first appeared on the Yashica-Mat in 1957. The SV first appeared on the Yashica 44 in 1958 but wasn't generally used on 66 models until the Yashica 24 in 1965.
Confirming the similar appearance and operation, the website http://www.suaudeau.eu/memo/rep/yashica_mat/Yashica_mat.html claims that many of the parts are in fact interchangeable and provides a visual comparison of the MXV on the left with the SV on the right (front view):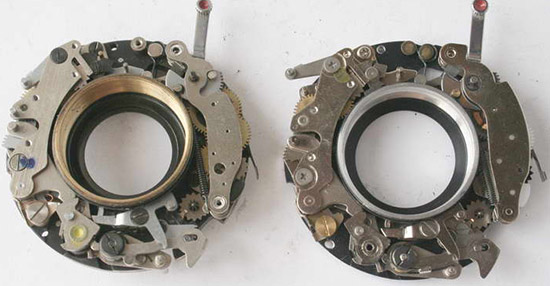 (Image courtesy of Benoît Suaudeau in accordance with the policy of the above website)
Minor differences in finishes and detailing are probably more due to the different vintages of the two examples than anything else. A visit to the website will also show the reverse side of the two shutters. The back is really only a mounting plate for components and in this regard, the two shutters are quite different, the MXV has a relatively plain plate but the SV version is clearly more modular. I think that this is where the main difference between the two shutters is. The MXV seems to be found only in top spec form with a full range of speeds and 10 aperture blades. The SV can be found in a configuration to match the MXV, or with 5 aperture blades and in some applications, without self-timer, low speeds and a top speed reduced to 1/300, e.g. the 1959 Yashica YK 35 mm rangefinder camera has such a low spec shutter (although I think that it may still have 10 aperture blades) with just "Copal" identified externally but two examples with the front lens block removed have "Copal SV" on the shutter cover plate: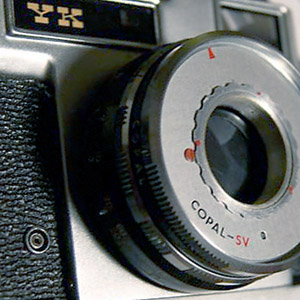 (Detail from larger web image)
In another application, I have seen the 1/25 to 1/300 speeds marked on the front. An example of a full spec version is this Yashica 35 with an SV shutter which owner Chris Whelan says matches all the headline specs of the Copal MXV it is advertised with and which name appears on the lens barrel (see Yashica 35):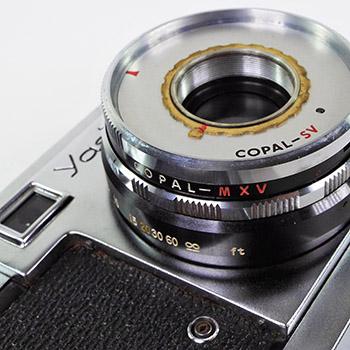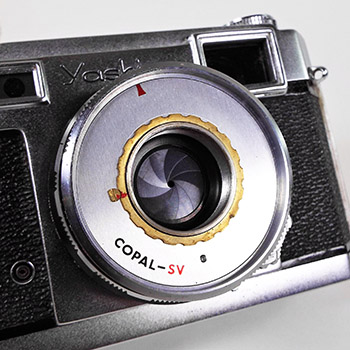 (Images courtesy of Chris Whelan)
Of the three Yashica 35 examples found with the front lens block removed, two are fitted with the SV shutter (one early, one late) and one with MXV. There could be a number of explanations but the simplest may be one of supply and substituting what both the shutter and camera maker perceived as an identical, or at least equivalent, type.
It seems to me that the original MXV and SV are basically the same shutter but that the SV offers configuration flexibility for the camera maker's particular application. An early example of the different positioning possibilities of the two shutters is the 1958 Beauty Super II 35 mm rangefinder camera. It was available with a f/1.9 lens and Copal MXV shutter with 10 aperture blades or, in cheaper f/2 and f/2.8 versions with Copal SV shutter with 5 aperture blades (camera-wiki.org). In Copal Shutters above, I have suggested that "MXV" was likely borrowed from Compur and "SV" from Prontor even though both shutters are almost certainly based on the Prontor design. In the 1950's, quality and design wise, Compur was considered number 1 and Prontor number 2. Originally, Copal perhaps thought that its customers would simply choose the MXV where the top spec was needed and anything less would be a suitably configured SV.
However, over time, the SV seemed to replace the MXV completely. Most of the 35 mm fixed lens rangefinder cameras from the early 1960s, especially those with some level of linked or automated exposure control, adopted the SV shutter and that is where Copal's development focus seemed to be. In the context of the Yashica CdS models, coupling of the exposure meter to shutter aperture and shutter speeds may have been the main consideration for the choice of the SV.
The 5 aperture blades on late model Yashica TLRs with "MXV" on the faceplate does beg the question of whether Yashica moved to the SV shutter of its CdS models without changing the shutter name on the camera, either as a cost-cutting measure, or perhaps because the MXV was no longer going to be available. That way, new faceplates were not required and manuals, brochures and other advertising material did not have to be updated. Remember, that is a question, not statement of fact. On the other hand, there is some precedent with the 1958-1960 Yashica 35 examples.
Flash Sync (WARNING!)
It used to be the case that flash sync sockets were not standardised until the world slowly adopted the German Prontor-Compur type, hence "PC" socket. The Pigeonflex and Yashima Flex used the ASA type with spring loaded pin in the centre and positive bayonet coupling. This is most commonly found on US made cameras and is sometimes called the "Kodak ASA" type. Both the Yashica Flex model B and Yashica Flex model S started with the ASA socket before changing over to the PC type early in their production runs (near the change from Tri-Lausar to Heliotar lenses on the model S but still with NKS-FB shutter). In the oldest English language Yashica Flex model S brochure found, Yashima still refers to "Standard ASA connector". In the slightly later early Yashicaflex A series literature, Yashima refers to both "German type" and "European type".



(Images courtesy of Tom Heckhaus)
ASA type on side of Yashima Flex, PC type on side of Yashica Flex model B and PC type on front of Yashica D. Left below is an ASA type bayonet plug on a Minicam Synchron Junior flashgun and on the right, a Minicam PC plug (modern types usually have a 90 degree type plug):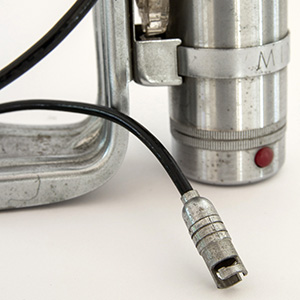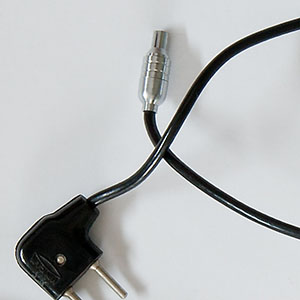 Early examples have the sync low down on the spool knob side. From late 1955 or early 1956, the sync on 66 models moved to the front on the right hand side of the focusing panel when looking at the camera, near the top corner for most models (top left for the early Yashica E) and near the bottom corner for the Yashicaflex A series (A-I, A-II, AS-I and AS-II), MolfoReflex, Yashica Rookie, Yashica A and the late version of the Yashica E.
Generally, on the various Yashica TLR models, shutter sync is commonly referred to "X" or "M/X" where the "X" means electronic flash (Xenon) and the flash fires at the peak of the shutter opening and "M" means medium duration flash bulbs which require the burn to start 20 to 25 milliseconds before the shutter is fully open (sync is usually set at 20 milliseconds). Shutters with combined "M/X" capability have a sliding lever to change flash settings from one to the other. The features sheet that came with my earliest Yashica Flex model S explains that the NKS-FB shutter has synchronisation for "F Class" (I believe that the later version with Copal shutter was "X" sync). F Class are short duration flash bulbs requiring a 5 milliseconds delay (information based on Wikipedia). Note that no sync speed is quoted. Cameras earlier than the Yashica Flex model S may have also been "F" sync, maybe the "FB" in the NKS-FB shutter is a clue, but may also have been "M" or some other unspecified sync (more likely for NKS and NKS-TB shutters) so I have generally referred to them as having a sync socket without quoting the type.
The first English language manual for the Yashicaflex model A (A-I and A-II) still depicts a Y.S.K. shutter and states, "German type Flash Synchronization Terminal (X). Synchronization up to 1/100 sec." The slightly later model AS (AS-I and AS-II) manual states the same but depicts the Copal shutter. Both manuals illustrate flash use with Minicam flashbulb flashguns. The simple truth is that rather than X sync being optimised for electronic flash, it was instantaneous and straightforward to implement. Flashbulbs ideally require to start their burn before the shutter fires, something facilitated by the self-timer escapement on Copal shutters but missing from these budget versions.
Manuals for models with M/X switching quote that "M" class bulbs can be used at any speed. Other manuals note that "Short Peak" bulbs (F Class) can be used on X sync at either 1/50 sec or 1/60 sec (depending on shutter progression) and "Medium Peak" bulbs can be used on X sync at either 1/25 sec or 1/30 sec. The Yashica Mat-124G manual explains that electronic flash and "M" class bulbs can be used at any speed but "F Class" bulbs are limited to 1/30 sec. or slower. The late Yashica D manual with "66" on the cover is similar. If in doubt, read the relevant manual but cameras with X sync should be OK at any speed with electronic flash. Flash bulbs are trickier.
Even though Copal shutters have a lock-out to prevent using the self-timer on the "M" sync setting, this often either seems to fail or photographers are cleverer than Copal engineers. DO NOT USE "M" SYNC TOGETHER WITH THE SELF-TIMER see also the "Ownership" section.