Pentamatic SLR & the Move to M42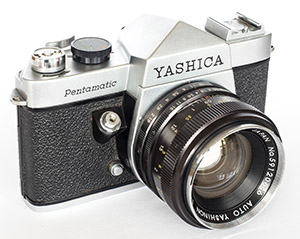 Contents
(Scroll down or click on Links)
Pentamatic Development
Pentamatic Arrives
The Lens Problem
Other Design Issues
f/1.8 5.5 cm Standard Lens
Price Comparison USA Market
Expert Critical Evaluation

Pentamatic II
Pentamatic S
Pentamatic/Pentamatic II Design Variations
Comparison of Yashica and Minolta SLRs
Penta J, Reflex 35 & the M42 Line
R.I.P.

Pentamatic Lenses

Tomioka Tominon Normal Lens & 10 cm Mystery Lens
Accessory Lenses
Pentamatic Accessories
M42 Mount Mystery
Claims of Zunow Sourced 35 mm Lenses
A Mamiya Twist
Serial Numbers & Production
User Manuals
In the Pentamatic Box
Pentamatic & Related Links
Pentamatic Development
Until 1957, Yashima was a company building TLRs based on the Rolleicord design. Not much had changed since 1953 even though there were a lot of models. The variations mostly involved bought in shutters and lenses and how they were mixed and matched. Any improvements had been evolutionary rather than revolutionary. In that context, it is hard to imagine that the company had a large design and engineering staff, let alone one experienced in cameras other than TLRs. Yet from 1957 to 1960, Yashima/Yashica released the Yashica 8 movie camera followed by derivative models, Yashica 35 fixed lens rangefinder camera followed by derivative models, the Y16 sub miniature camera and its first SLR, the Pentamatic. It also managed to design and build three brand new 44 models. How was that all possible?
By way of background, the Nikon F, released in April 1959, was an outstanding professional level camera from the outset but its development had evolved from the existing 1957 Nikon SP rangefinder model with the main new parts being the mirror box, pentaprism viewfinder and bayonet mount. The Mamiya Prismat CLP released in 1960 had been eight years in development since the first Prismflex prototype in 1952. Designing an SLR from ground up in a little over two years and solving the engineering problems along the way, not to mention tooling up for a new type of camera and working with your lens partner(s) to develop a new range of lenses, would have been quite a challenging task for Yashica.
How the Pentamatic and other new models were developed is largely unknown but we can speculate that maybe Yashica had some assistance. There is certainly one big hint. Yashica acquired Nicca Camera and its engineers in May 1958 so it had access to the basic structure of a focal plane shutter 35 mm camera and the people to develop it further. That much has largely been assumed but the centre panel of a Japanese Pentamatic brochure actually tells us that the camera was 3 years in development and unusually for Yashica, acknowledges the Nicca contribution by name. The big question is whether the 3 years is marketing speak for 1958, 1959 and 1960 (only 20 months from Nicca acquisition in May 1958 to January 1960 release), or was the camera in development by either Yashica or Nicca or jointly before the acquisition? I don't have a feeling either way.
Definition of Aperture Types
Aperture types play a key role in any discussion about the Pentamatic. The basic types are:
Manual. The lens aperture is manually set to the required aperture and there it stays.
Preset. This is a manual system but the lens features two aperture rings. The first is set to the required aperture but the diaphragm remains fully open until the second ring is turned by the photographer to stop down the lens just before shooting.
Semi-automatic. A spring operated mechanism in the lens is manually cocked, usually by a lever on the lens. The lens stays fully open until the shutter is fired when the camera trips the spring and stops the lens down to the previously set aperture. The aperture only opens up when the mechanism is manually cocked again.
Automatic. The semi-automatic lever cocking is replaced by the film winding on action "automatically" cocking the spring mechanism again, i.e. the photographer doesn't need to remember or think about aperture cocking. With the film wound on and the shutter cocked, the process is indeed automatic until after the moment the picture is taken. This was the Pentamatic and Pentamatic S automatic system.
Fully automatic. This is what we these days simply think of as "automatic" but it entails the extra step of automatically re-opening the aperture after exposure.
Note, automatic and fully automatic apertures can include different mixes of what the camera does and controls and what the lens does and the Exakta and Topcon R used an external link to the shutter to activate their automatic stop down (a design dead end).
Pentamatic Arrives
Pentamatic

Found Serial No.s

Production Dates

From

To

From

To

1600007x

8600955x

Jan 1960

Aug 1960

10600974x

12601332x

Oct 1960

Dec 1960

1611350x

1611681x

Jan 1961

Jan 1961
The original Pentamatic was actually a handsome, modern looking mid-spec camera, a little late but possibly not too late to market if it was competitive in terms of specs and price. I had initially said "up-to-date" but as we shall see, several things about its specs and packaging let it down, perhaps fatally. In the 24 April 2004 edition of the well regarded UK magazine Amateur Photographer, regular columnist Ivor Matanle called it "by any standards a fine piece of engineering". In his autobiography, the famous Weegee, Arthur Fellig, commented favourably on using it. The Pentamatic was keenly priced for its spec level but certainly not a bargain either. It featured an instant return mirror and non-rotating shutter speed dial with 1/1000 but its defining feature is the shoulder mounted accessory shoe - most contemporary SLRs were sans shoe, offering an accessory clip-on type instead. A three position lever on the back allows the rewind crank to pop up and the back to be opened: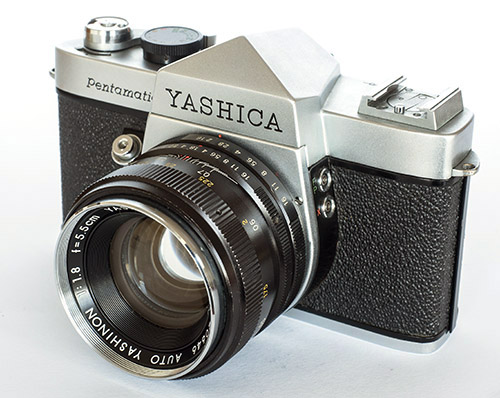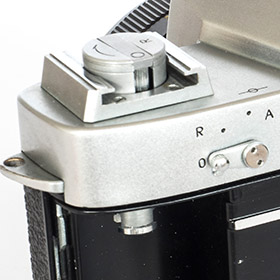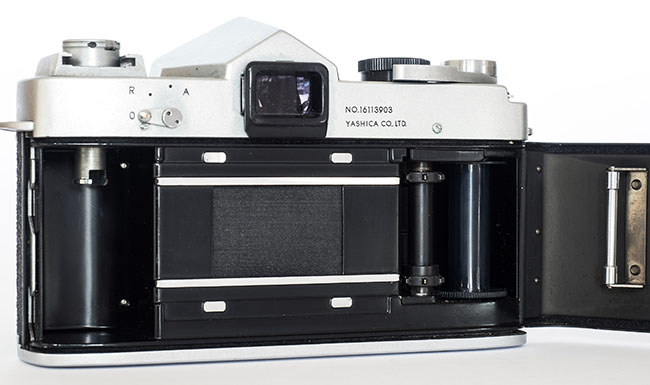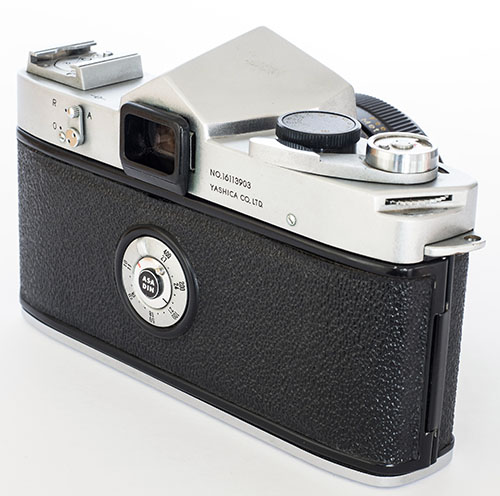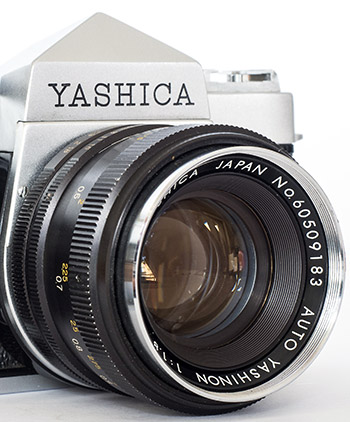 Below is an early US market brochure, only two auxiliary lenses were initially offered (see further below) but even then, the specs for the wide angle and telephoto lenses were reversed: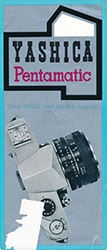 (Scan courtesy of Chris Whelan)
(Click on cover for PDF of double sided tri-fold brochure)
Japan's first SLR was the Asahiflex in 1952. This still featured a waste level viewfinder whereas the Germans were already introducing pentaprisms (the 1949 Contax S was the first). The first Japanese SLR with eye level finder was the 1955 Pentaflex with porroprism (using mirrors instead of a pentaprism, later common on budget SLRs and DSLRs) made by niche maker Tokiwa Seiki and this was followed four months later by the 1955 Orion Camera Co. made Miranda equipped with Japan's first pentaprism viewfinder. Then in 1957 came the Asahi Pentax, still with manual preset aperture, which established the layout of the modern SLR including lever wind (first introduced by Exakta in 1934, albeit on the left, and popularised by the Leica M3 rangefinder), Tokiwa Seiki's new Firstflex and the Topcon R. The Topcon used Exakta's external shutter pressure activated automatic aperture. It was followed by the 1958 Zunow debuting the World's first internally linked fully automatic aperture diaphragm. The internally linked "automatic" (advertised as that but not fully auto, similar operation to the 1953 Praktina FX and 1956 Contax F) Minolta SR-2 arrived in late 1958 and 1959 saw the release of the Petri Penta, Nikon F and Cannonflex, the first a basic camera with a manually set preset lens and the last two with fully automatic apertures. The Konica F, the first SLR with a 1/2,000 shutter speed and first Japanese SLR with cross coupled selenium exposure meter, arrived in early 1960, probably near the Pentamatic release. So most of the main competition arrived first but with the benefit of hindsight into what consumers wanted, there was opportunity too for Yashica to get the price and features right.
The release date for the Pentamatic is somewhat contentious. Occurrences on the net are roughly divided between 1959 and 1960 with perhaps 1959 favoured, usually in conjunction with the word, "introduced", however, there is another claim of a "Yashica/Kyocera sourced" date, March 1960. The Trademark filing date in Japan was 18 September 1959 and in the US, it was 12 February 1960. The official Kyocera Optec website of today lists Tomioka SLR lens production as commencing in 1960. Contributor Chris Whelan believes that he has decoded the Pentamatic serial numbers, with which I concur, and that the camera in the English language user manual, 12900009, is from December 1959 ("12" for December, "9" for 1959), almost certainly a pre-production example. Series production seems to have commenced in January 1960 (see table above). Release could have happened at any point from then on.
An article by Hiroshi Sugawara in Japanese "Camera Collectors' News" of November 1999 claims that the Pentamatic was released in late January 1960. That would be in Japan. He also seems to make the point that it was common practice amongst Japanese camera makers at the time to announce their new cameras two or so months before the actual release which he takes to mean the first shipments to camera stores. That would make the initial announcement in October, maybe November 1959. Unfortunately, specifics are not provided.
Meanwhile in the USA, page 48 of the Philadelphia Inquirer newspaper of 4 May 1960 contains an ad placed by Yashica which tells us that the new Pentamatic, and also the new Yashica Mat-LM (plus some others), can be seen at the Delaware Valley Photo Show, or "at your local Yashica dealer", and this was "their first public showing" after the "introduction at the trade show in St. Louis" (note, the linked ad has been edited for easier viewing). According to Chris Whelan, this was "the 36th annual trade show of the Master Photo Dealers & Finishers Association convention in St. Louis, held March 21-25, 1960." So announced late 1959, released in Japan in January 1960 and in the USA in March-May, depending on definition of "release".
The original model is the only one with evidence of worldwide sales and advertising. Chris Whelan and I have found ads and/or brochures from Japan, USA, Germany, France, Singapore and Australia. Most Pentamatics found for sale today are from Japan and the US.
The Lens Problem
(Note, all the lenses were marked in "cm" but advertised in "mm". I mostly refer to what is marked on the lens.)
Nearly every reference source implies that the Pentamatic's "proprietary" bayonet lens mount was an impediment to the camera's sales success. Well, yes, if you don't have many desirable lenses to offer, but what has to be understood is that every successful bayonet lens mount, including the Nikon F mount, was/is "proprietary" and were usually accompanied by an ever increasing selection of matching lenses specifically designed for the system. In Comparison of Yashica and Minolta SLRs further below, I have compared the Pentamatic models to Minolta's early offerings. The Minolta SLRs with their bayonet mount were quite successful in the Yashica Pentamatic/M42 period.
Below is the Pentamatic mount and corresponding lens bayonet (shown upside down compared to body, lens is a Pentamatic II f/1.7 58 mm type):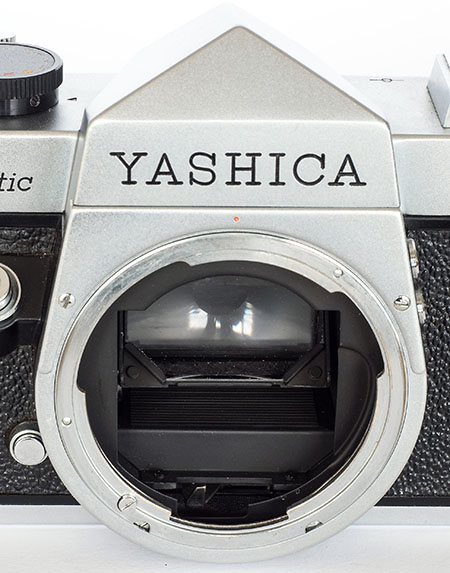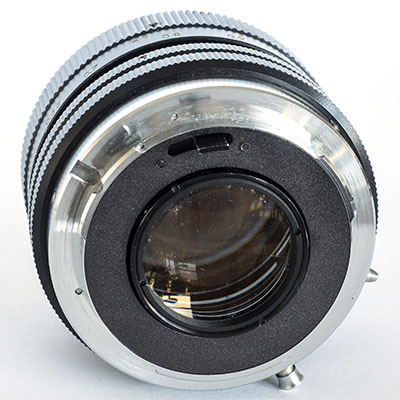 (Although not mentioned by other commentators, to me, the mount looks a bit delicate and I have seen some wear/careless use damage other than brassing.)
In 1960, the M42 screw mount was certainly common but far from "universal" yet with the main users being the East German Praktica and the Japanese Asahi Pentax with smaller West German brand Edixa and East German Contax (VEB Zeiss Ikon/Pentacon) already declining. It was also a negative for fast lens changes and the shortly to arrive through lens metering. However, the problem for Yashica's "proprietary" lens mount was threefold; the lack of lenses on release, slow development of it's lens portfolio and the lack of automatic lenses.
Much was made of the camera's automatic aperture diaphragm stop down ability but only the standard Auto Yashinon f/1.8 5.5 cm lens was "automatic" and even that was a marketing stretch - yes, the aperture diaphragm automatically stopped down at the time the shutter was released but as noted above, the return of the aperture diaphragm to fully open for viewing was only accomplished by cocking the shutter again. Although state of the art only a year or two earlier on cameras such as the 1958 Minolta SR-2 and earlier German cameras, the Zunow, Nikon F and Canonflex had already established the fully automatic standard as we understand it with others soon following. Asahi announced the S3 (H3 in the US) with an Auto Takumar lens at Photokina in 1960 (released in 1961) and Minolta added the feature to its then current flagship, the SR-3, in 1961 and then extended it to its budget model, the SR-1. As noted below, the rare and short-lived Japan only Pentamatic II did feature a fully automatic aperture so Yashica knew how to build one but again omitting it from the last model, the Pentamatic S, was almost certainly another factor in its early demise.
More than anything else, an SLR is defined by its lenses. Initially, according to the user manual, only two accessory lenses were offered, an f/2.8 35 mm moderate wide angle and an f/2.8 100 mm short/medium telephoto and both of these were of the manual pre-set type (see also the Pentamatic brochure above):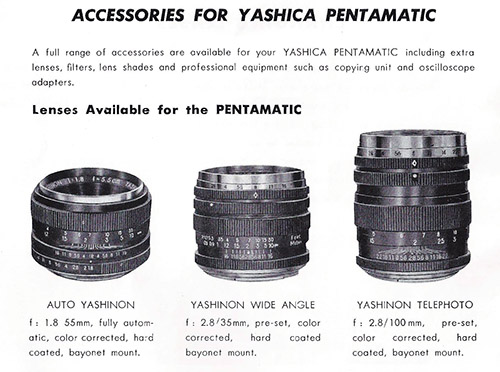 (User manual scan courtesy of Chris Whelan)
This minimalist selection, without even a hint of more to come, must have set some sort of record for interchangeable lens SLRs and undoubtedly would have been a real disappointment for photographers who were looking to SLRs to extend their focal length reach over the limitations imposed by interchangeable lens rangefinders, for example.
In comparison, when the small lens maker Zunow introduced its first SLR in 1958, it advertised four fully automatic lenses with another four pre-set types planned (three longer, up to 800 mm, and a macro). Admittedly, perhaps only three of the lenses were ever produced before the project folded but the point is that Zunow understood the importance of making available a range of lenses to meet customers' needs and customers were given what we understand these days as a lens map. Somewhat similar to Yashica, when Minolta released the SR-2 in October 1958, only three accessory lenses were available and these also were of the pre-set type but by 1959 there were more and automatic diaphragm versions were already replacing some of the pre-set type. A company entering the market in 1960 needed to offer more than what may have been passable in 1958, not less.
Like Zunow, Yashica did offer adaptors for Praktica M42 screw and Exakta bayonet mount lenses right from the beginning (already featured in the first user manual) but these were manual operation only and like Yashica's own preset lenses, they could not use the camera's headline automatic aperture stop down feature that customers were paying for.
By June 1960, an f/2.8 135 mm was added and a subsequent US system brochure also includes an f/4 250 lens (in the fine print). However, a Japanese Pentamatic brochure from before September 1960 (how much before is unknown, months began to be included in brochure codes from September onward) includes these lenses and a fifth lens, an f/3.5 180 mm. It may well be that the Japanese market received some of these lenses before export markets or they arrived quicker than US brochures indicate: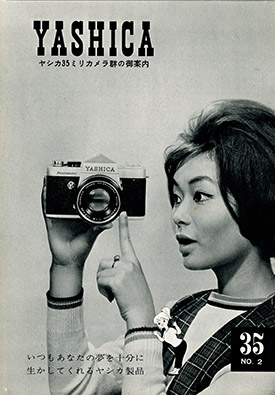 (Click on cover for full PDF brochure)
When the Pentamatic S and first M42 models were released near the same time, a completely new range of T-mount lenses, available with either Pentamatic or M42 mount, was advertised in focal lengths up to 400 mm (details further below), but still no wider than 35 mm. Better, but in comparison to major competitors, still a limited range. Incredibly, given the auto-aperture ability of the camera, all the accessory lenses of both series remained pre-set types. Why this was the case is a mystery but if the Pentamatic wasn't doomed for other reasons, this was surely a decisive factor.
As noted above, Tomioka, assumed by many to be Yashica's exclusive lens supplier, had not produced SLR lenses previously, and interchangeable rangefinder lenses are an unknown (there is no certainty regarding the relatively low volume YE and YF lenses of which at least one of the normal lenses and one of the two telephoto lenses were made by someone else). SLR lenses require relatively complex machined barrels plus the addition of aperture diaphragm mechanisms, not to mention the "automatic" aperture of the standard lens, compared to the threaded tubes of TLRs and usually simpler leaf shutter viewfinder/ fixed lens rangefinder cameras that were Tomioka's bread and butter at the time. When Yashica decided to look further afield, was Tomioka struggling to deliver, or did Yashica want to spread the risk? As we shall find out in Pentamatic Lenses and Accessory Lenses, whilst Tomioka certainly made the first 3.5 cm and 10 cm accessory lenses and probably the normal 5.5 cm lens, the rest of the silver nose accessory lenses were likely off-the-shelf items made by Kyoei Optical Co., Ltd. and the later black nose T-mount lenses were made by several companies including Nissin Optical Manufacturing Co., Ltd. and the company that would later become Tokina. As far as I am aware, all these companies only offered preset lenses at the time, thus Yashica effectively cemented its decision, for whatever reason, to not offer automatic aperture accessory lenses.
Other Design Issues
Compared to competitors, two other annoying quirks that were likely due to cost cutting were, when loading film, the need for manual frame reset with an easy to accidentally move toothed wheel and the lack of a self-timer which was finally added in the S model (bizarrely, whilst suggesting that in-built self-timers weren't "considered versatile enough" for this model, the original user manual shows the use of a "Walz" branded accessory timer - at various times in the then past, Yashica had offered "Yashica" branded items).
The vulnerable toothed wheel seems similar to the equally problematic version introduced in 1957 on Leotax Leica copies. I suspect that both copied the idea introduced on the 1956 Canon VT rangefinder models where the toothed wheel was better protected. Pentamatic on left (Pentamatic II shown, same as Pentamatic and Pentamatic S), Leotax TV2 on right.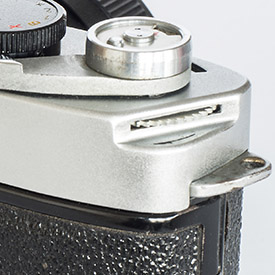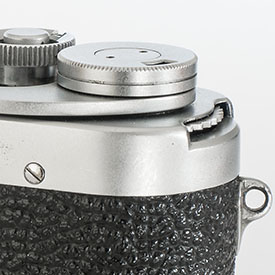 Ironically, Yashica had endowed its first 35 mm camera, the Yashica 35 released in April 1958, with an automatically reset film counter and included the feature on the 1959 Yashica YL too. Both these were lower priced cameras. Then Yashica discarded the automatic reset of the Nicca III-L in the process of turning it into the YF. It seems that Yashica had decided that the cost was not worth the benefit. Omitting features was the wrong decision at a time when success seemed to depend on innovation.
f/1.8 5.5 cm Auto Yashinon Standard Lens
This lens is comprised of 6 elements in 4 groups (schematic in Pentamatic S brochure). It focuses down to about 0.5 metres.
The aperture is made up of either 6 or 9 curved diaphragm blades. There are three main serial number ranges, the two earliest starting with 5910 and 5912 and the last with 605. Strangely, a very early lens, owned by contributor Chris Whelan, with serial number 59100092 features 6 blades, however, slightly later lenses, 591001xx and 591005xx, feature 9 blades as seem to all lenses with serial numbers beginning with 5912. As a general rule, lenses beginning with 6050, 6051 and 6052 (the majority and also including all original fitments for the Pentamatic S) are back to 6 blades, however, the earliest of these lenses with aperture visible is 6050204x and it still features the earlier 9 blades.
The filter size is 52 mm and conveniently, the user manual claims that "all" Pentamatic lenses are the same size. However, the "all" only applies to the lenses in the manual, the standard 5.5 cm and the 3.5 cm and 10 cm. Of the lenses that followed, only the 13.5 cm f/3.5 silver nose is also 52 mm. None of the the black nose lenses released with the Pentamatic S are 52 mm - see Pentamatic Lenses below).
The reason why the focal length is 5.5 cm (and 5.8 cm for the Pentamatic II lens) rather than the 5 cm considered "normal" for the rangefinder lenses is that it is more difficult to design big aperture retrofocus designs for SLRs as the focal length becomes shorter and in the early days of SLRs, the longer lenses were more common. Slightly longer makes them better for portraiture but less useful for general photography.
Price Comparison USA Market
The table below provides some 1962 prices in the US plus key specs of comparative Japanese SLR models. Note, from serial numbers, it looks like the last Pentamatic was made in January 1961. By February 1962, the last examples were being advertised in Modern Photography at the fire sale price of $94.50, therefore the August 1962 Popular Science table certainly reflects earlier retail pricing (confirmed by several ads).
Camera

Max.
f/stop

Max.
Shutter

Lens Range

Exposure
Meter

Price

From Popular Science, August 1962

Nikon F

f/2

1/1000

28-1,000 mm

No

$329.50

Cannonflex RM

f/1.8

1/1,000

35-1,000 mm

Yes

$300.00

Miranda Automex

f/1.9

1/1,000

28-400 mm

Yes

$299.95

Topcon C

f/1.8

1/1,000

35-1,000 mm

No

$295.00

Minolta SR-3

f/1.4

1/1,000

35-600 mm

No

$229.50

Minolta SR-3

f/1.8

1/1,000

35-600 mm

No

*1
$199.50

Pentax H3

f/1.4

1/1,000

35-1,000 mm

No

$199.50

Minolta SR-1

f/1.8

1/500

35-600 mm

No

$179.50

Miranda DR

f/1.9

1/500

28-400 mm

No

$169.95

Pentamatic

f/1.8

1/1,000

35-400 mm

No

*2
$159.95

Pentax H1

f/1.8

1/500

35-1,000 mm

No

$149.50
*1 price obtained from period ads, other details as for f/1.4 lens
*2 advertised as $159.95 plus $15 for the ever ready case, total cost $174.95 (some others, including Minolta, also advertised "plus case")
An Olden Camera Co., New York, ad for the Mamiya Prismat NP released in February 1961 advertised it at $118.50, illustrating what a bargain price might look like. The top speed of 1/1,000 and Canon Exakta mount f/1.9 lens made it competitive. Like Yashica, Mamiya was trying to break into the 35 mm SLR market - this was the company's second model.
Expert Critical Evaluation
The November 1999 "Camera Collectors' News" article by Hiroshi Sugawara, mentioned above, makes reference to the June 1960 edition of Japanese magazine "Asahi Camera" which reported on the results of a disassembly, inspection and testing of a Pentamatic in its camera assessment lab. This was jointly undertaken by celebrated Japanese photographer Mr Ihei Kimura, Professor Jun Koizumi from Tokyo University and camera repair technician Mr Tsui Uchida Yukichi.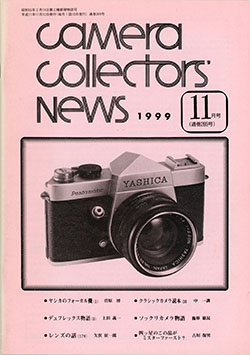 By way of background, Hiroshi Sugawara explains that in Japan at that time were the high-end SLRs, such as the Nikon F and Canonflex, costing 60,000 yen or more and the middle class SLRS around 30,000 yen (the Pentamatic ads price it at 34,800 yen plus 2,000 yen for the ever-ready case). This is where he places the Pentamatic but "one step higher" because of the 1/000 shutter (in comparison to those models with 1/500 shutters). He also notes that the camera was advertised as being able to use other mount interchangeable lenses by use of dedicated adaptor rings but a consequence of this design was a short flange to film plane distance necessitating compromises with the mirror size and mechanism, an aspect which elicited negative comment by the review team.
Testing by Asahi Camera indicated "that the mirror position slightly deviates before and after cocking" so that it was necessary to focus after cocking the shutter (advancing the film). Other comments included that "there is no consideration to attach a dioptre correction lens to the eyepiece, the view field ratio is slightly narrower than the range actually seen on the film...that the internal reflection of the body is quite large, the film screen spacing is irregular... (the) slow shutter speed governor worked poorly... the manual film counter moved (too) easily, the mirror is small, the mirror is small even with the standard lens."
On a positive note, "the pentaprism is firmly fixed to the body with springs from both sides, a metallic protective plate is attached to the top of the pentaprism... die casting of the body is good in finishing accuracy". There is also reference to "the focal plane shutter made by the Nicca engineers", I'm not sure in what context but certainly positive and also confirming the importance of the Nicca acquisition to the project. However, the top speed of the shutter tested slow at 1/700 but the 1/500 and 1/250 speeds were accurate.
The lens was also assessed, "Tomioka Optical made Auto Yashinon 55 mm f/1.8 (4 group 6 element type) has a large opening efficiency of 65%, the resolution is excellent, but the lens barrel is too heavy. Focusing is from infinity to 0.5 m." Testing found ghosting with bright point light sources, particularly at night. A problem was found with the aperture blades which would not fully open beyond f/2, perhaps this was a reason for the change from 9 aperture blades to 6?
The report noted that the body and lens both featured "advantages and disadvantages intermingled." This appeared to continue with quality as well with the report noting that whilst "screws inside the camera may well be done, but from the point that scratches are attached to the grooves of some screw heads, etc., non-experts are mixed in the assembly," i.e. semi-skilled labour was being used. "There are also some strange things in the way of cutting the teeth of gears." "As a result of first-class and second-class products living together," either the report, or Hiroshi Sugawara, notes that there is sometimes a feeling of coarseness, or as the translation puts it, "sometimes the whole sort of something is jerky."
Finishing off, Hiroshi Sugawara comments that the front mounted shutter button is easy to use and in his view, helps with reducing camera shake, but importantly, he notes that in Japan it was not popular and it was not a "hit" with Topcon, Miranda or Petri either.
So what does this evaluation by Hiroshi Sugawara and the Asahi Camera team mean? There was both good and bad. For a first completely new camera type from a maker, not just a new model, there was plenty of good with some opportunities to improve, nothing disastrous. Any product is a compromise between features, quality and price so the only meaningful way for us to make an assessment is look at how this review compares to similar reviews of the Pentamatic's competitors. Unfortunately, that is not something that I have access to.
Pentamatic II
Pentamatic II

Found Serial No.s

Production Dates

From

To

From

To

8600001x

9600397x

Aug 1960

Sep 1960

12600417x

12600447x

Dec 1960

Dec 1960

110529x

110809x

Jan 1961

Jan 1961
(Note: January 1961 numbers adopt Pentamatic S date code format except that Pentamatic II has 5 digit production numbers and Pentamatic S has 4 digit numbers.)
A Pentamatic II featuring fully automatic aperture operation and a different Auto Yashinon f/1.7 5.8 cm standard lens (still 6 elements in 4 groups) with depth of field stop-down button (and slider to re-open the aperture) and 10 curved blade aperture diaphragm (more lens details further below in A Mamiya Twist) was released around September 1960 and by serial numbers, seems to have been produced alongside the original Pentamatic until only January 1961 when production of both ended: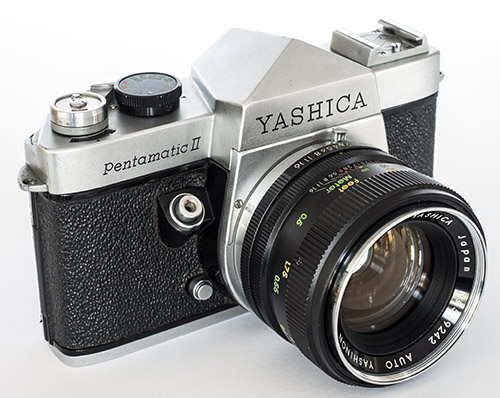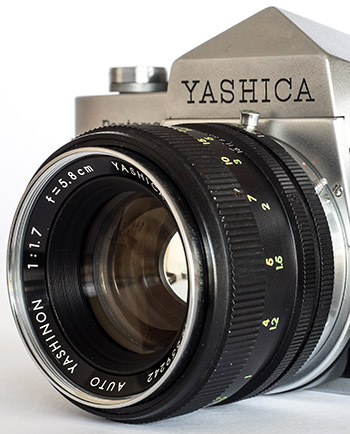 The fully automatic aperture stop down and opening is controlled by the camera and also works with the earlier f/1.8 5.5 cm lens (I have tested both). However, it is possible that the lens mechanism of the earlier lens is not as robust for this feature to be relied upon and the lack of a DoF function is certainly a disadvantage.
It seems to have only been advertised in Japan and all found examples are from Japanese auctions and websites. A Japanese brochure featuring both models advertises the Pentamatic at ¥34,800 plus ¥2,000 for the ever ready case and the Pentamatic II at ¥37,300 plus ¥2,200 for the case.
This is another brochure from September 1960: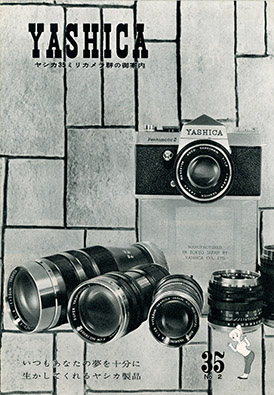 (Click on cover for full PDF brochure)
The fact that it lasted barely four months and didn't make it out of Japan suggests that there was a management decision about the future of the series, an inherent design or reliability problem, or that there was a lens supply issue as suggested further below. Yashica was not a niche player and a completely new high quality lens would have come at some cost and is very odd to have been abandoned so quickly.
Pentamatic S
Pentamatic S

Found Serial No.s

Production Dates

From

To

From

To

14001x

19293x

Apr 1961

Sep 1961

23316x

Mar 1962
(Note: There is an earlier body, 120011, covered in Tomioka Tominon Normal Lens & 10 cm Mystery Lens which may all be pre-production items that have found their way into the marketplace. The last single March 1962 camera seems a long way from mainstream production but there are only 235 cameras between this camera and the last September 1961 example. As noted below, most examples have been found in the USA, only four are from Japan - this one, the possibly pre-production example and two others.)
Both the Pentamatic and Pentamatic II were replaced by the Pentamatic S in early 1961, although unsold stock of the Pentamatic appears to have lasted into 1962. There is a claimed release date of May 1961, from serial numbers, series production seemed to commence in April so that would fit. The S reverted to the original less than fully automatic aperture, requiring the shutter to be cocked to open the aperture, and standard f/1.8 5.5 cm lens with 6 aperture diaphragm blades found on the Pentamatic but added a split-prism rangefinder focusing aid, self-timer and an external exposure meter mounting plate and shutter coupling key-way: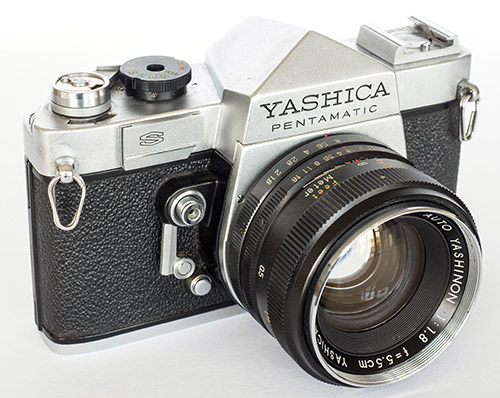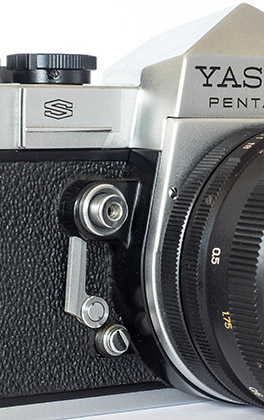 Because of the exposure meter when mounted, the shutter button was changed to fully horizontal, not a great solution ergonomically and going against the trend of the market leaders. It was also a little cramped with the shutter button, self-timer and lens lock virtually touching each other.
Most found examples are from the US with a small number from Japan (four plus one box bought by contributor, aficionado and collector Chris Whelan). Even so, one Japanese blogger claims that the model was for export only and no Japanese ads or brochures have been found by Chris. He has one US system brochure for it and another where it appears with the Penta J and J-3 M42 models. There was an ad for the camera run at least twice, once in Popular Photography (page 90, date unknown) and the second in an unknown publication (it adds a Canadian distributor's address) and it also appears with other Yashica cameras in the 14 January 1962 edition of LIFE magazine. The article in Japanese "Camera Collectors' News" of November 1999 referred to further above is about the Pentamatic models but only mentions the original and the Pentamatic II so perhaps the Pentamatic S was only released in the US and the examples found in Japan have been returned by collectors, apparently not an uncommon event, and perhaps by military personnel as they moved to and fro and traded/upgraded gear.
The "S" could stand for Split-prism rangefinder focusing (according to a Japanese blogger, suggested in an unnamed book), Shutter coupled exposure meter, Self-timer, all three or something else entirely. Yashica's US brochure and ad concentrate on the ease of focusing (shared with the Penta J below).
The Japanese user manual for the Pentamatic II mentions the availability of five accessory lenses but the English language Pentamatic S manual reuses the page from the original Pentamatic manual and therefore implies that apart from the standard lens, the additional lenses available are limited to the original 35 mm and 100 mm! In fact, even that was incorrect, the accessory lenses for the Pentamatic and Pentamatic II were completely replaced by an entirely new set, see Pentamatic Lenses below. In fact, I personally think that the Pentamatic S was designed as a transitional model for the important, but also litigious, US market to move customers from one lens mount to another. This will become clearer later.
The US price was "under $200 plus case", so a premium of $40 over the original model, not exactly cheap for the specification. The clip-on exposure meter was $25.
The last example in my database is from March 1962.
Pentamatic/Pentamatic II Design Variations
Shutter Button Platform
Eagle-eyed correspondent Tom Chandler has alerted me to a shutter button variation missed by both Chris Whelan and myself. Sometime between September (when the Pentamatic II was released) and October 1960, the angled shutter button mounting platform was changed on both the Pentamatic and Pentamatic II to make the button slightly less vertical. The platform itself is also slightly different and more substantial with a larger diameter to the cylindrical part under the button. Early Pentamatic on left, late Pentamatic II on right (photographs chosen for convenience, I have examples of both models with early and late button mounting platforms):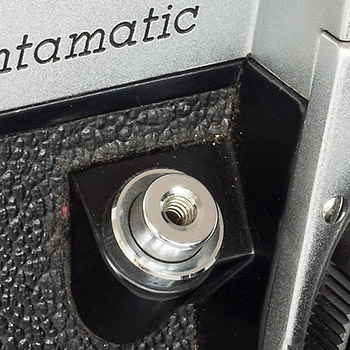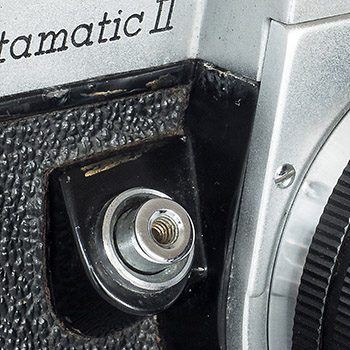 To make a change this early on with only low production volumes could suggest some sort of issue rather than just a minor ergonomic improvement, if it is that.
Viewfinder Eyepiece Frame
Unlike many of its contemporary competitors, the Pentamatic featured a fixed accessory/flash shoe and did not require the mounting of a removable shoe clip typically attached via the viewfinder eyepiece frame. Consequently it was released with a plain, smooth plastic frame. This features on all Pentamatic examples up to somewhere between serial numbers 8600922x (August 1960) and 10600974x (October 1960, note no September production), except for one found example, my 36001928 from March 1960. Although otherwise the same, it has slots cut into the plastic on both sides. The frame appears to be original with no evidence to suggest a later modification, although that cannot be ruled out.
After the plain type (i.e., from between serial number 8600922x and 10600974x), a revised frame was introduced which creates side slots between the body and frame with springs attached to the to the top plate to provide clearance and retaining pressure. Pentamatic II production started in August 1960 and whilst the earliest serial numbers theoretically could include the plain frames, none have been found so far. My presumption is that the new Pentamatic II introduced the revision and when existing stocks were used up on the Pentamatic (before early October 1960), the new frame became standard across the range. As far as I am aware, the only accessory that uses this facility is the right angle viewfinder. Examples below: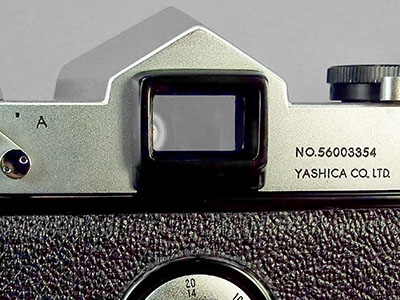 Original plain frame (image courtesy of Chris Whelan).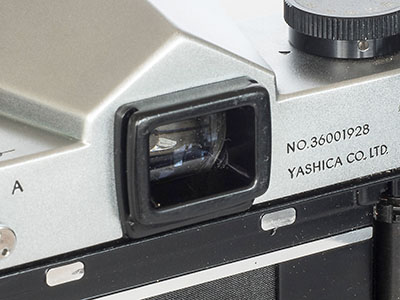 Original frame with slots in sides.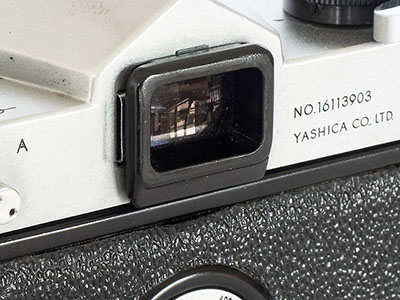 New frame with springs attached to camera body, metal tab stop on top.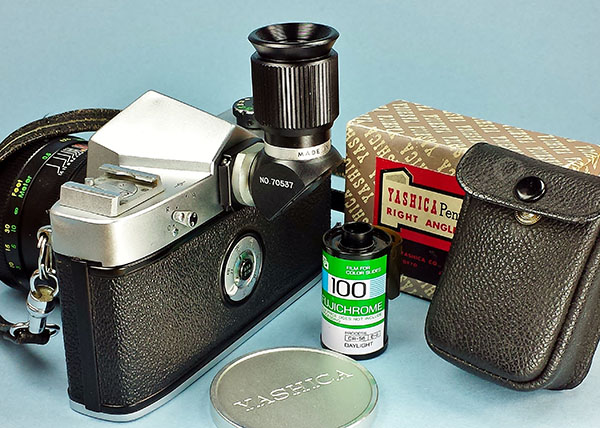 (Image courtesy of Chris Whelan)
Comparison of Yashica and Minolta SLRs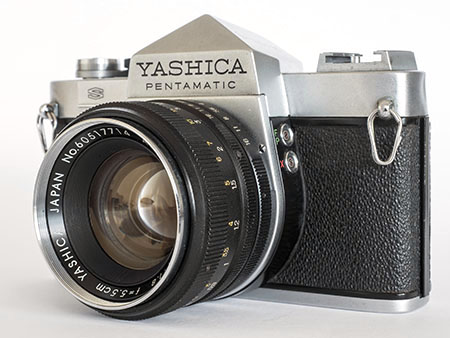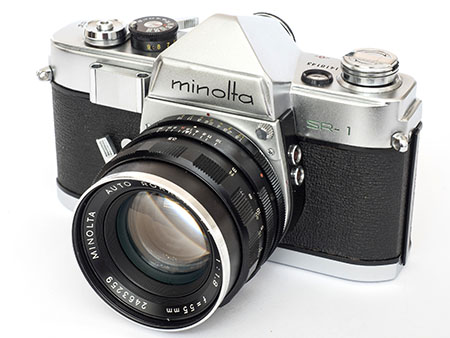 (1961 Pentamatic S and 1962 Minolta SR-1, same body as 1958 SR-2 but with 1/500 top speed and by now, exposure meter mount like the Yashica plus fully automatic aperture.)
Why Minolta models? Similar specs, some parallels in market positions but an SLR success story at the time. Minoltas were made by Chiyoda Kōgaku (adopting its camera's name in 1962) which was a much older photographic company than Yashica with it's origins dating back to 1928. Yashica was Japan's largest TLR maker, since 1958 looking to expand further into 35 mm. Chiyoda Kōgaku was probably Japan's second largest TLR maker, a little more upmarket than Yashica but significantly lower volumes. On the the other hand, it was involved with other formats and had been making 35 mm rangefinder cameras since 1947. Neither were top tier makers at Nikon/Canon level but both had aspirations in that direction.
In 1958, Chiyoda Kōgaku released its first SLR, the Minolta SR-2. It offered no firsts but was noteworthy because it brought together all the advances in basic SLR camera design so far, except for the fully automatic aperture introduced by Zunow in the same year. In several ways, it was a more modern camera than the well-received Pentaxes from the period. Apart from including automatic film counter reset and a self-timer, the specifications were very similar to Yashica's Pentamatic released in 1960 including a proprietary bayonet lens mount and the need to wind on the film to open the aperture again after it had automatically stopped down. In the late 1950s, even accomplishing the first half automatically was a major step so Minolta can perhaps be forgiven for initially calling their camera "automatic" but by 1960-61, it was marketing hyperbole for both makers.
Although well regarded and advanced for the time, it was expensive and competitors were challenging so Chiyoda Kōgaku followed up in 1959 with a budget version, the SR-1, which replaced the standard f/1.8 lens with an f/2 version (reverting to f/1.8 in 1962 as in the example above) and dropped the 1/1000 top speed to 1/500. Whilst the other specs and appearance remained the same, the lens line-up, particularly the auto lenses, was steadily increasing. The price of the SR-1 was much closer to the coming Pentamatic and whilst the sales of the flagship model were not earth shattering, the SR-1 sold truck loads. In 1961, the slightly updated SR-2 replacement, the SR-3, and the budget SR-1 both adopted fully automatic aperture diaphragms.
The table below compares features and price. In some respects the features are not all that different at first release. However, the Minolta SLR models had two years head start to establish themselves, as did other worthy competitors. In comparing the final 1961 cameras, the Minolta SR-3 with f/1.8 lens was the same price as the Pentamatic S. Both now had a self-timer and a mount for an external shutter coupled exposure meter (as did the SR-1 and Minolta even offered to upgrade earlier versions of the SR-1). The Minolta still had the advantage of the auto counter reset and later in the same year came the fully automatic diaphragm. It had 4 auto aperture accessory lenses and 7 preset lenses available, the Yashica just 5 preset lenses (the actual number of lenses is slightly rubbery depending on when they became available). The Yashica simply did not seem to offer enough at its price point to be a compelling newcomer.
Feature
Minolta
SR-2
Minolta
SR-1
Minolta
SR-3
Yashica
Pentamatic
Yashica
Pentamatic
II
Yashica
Pentamatic
S

Release

1958

1959

1960

1960

1960

1961

Aperture

Semi-
auto

Semi, auto
in 1961

Semi, auto
in 1961

Semi-
auto

Auto

Semi-
auto

Shutter

1/1000

1/500

1/1000

1/1000

1/1000

1/1000

Lens

f/1.8

f/2, f/1.8
from 1962

f/1.8
f/1.4

f/1.8

f/1.7

f/1.8

Reset

Auto

Auto

Auto

Manual

Manual

Manual

Self-timer

Yes

Yes

Yes

No

No

Yes

Meter
Mount

No

From 1962

Yes

No

No

Yes

No. of
Accessory
Lenses at
Release

3 preset

4 auto,
2 preset

4 auto,
7 preset

2 preset

5 preset

5 preset

Price USA

$249.50

$169.50

$159.95

n/a

$199.95*
* guess, advertised at "under $200 plus case"
Penta J, Reflex 35 & the M42 Line
Model

In Production*

From

To

Penta J

Jun 1961

Nov 1963

Reflex 35

Mar 1962

Jan 1964

J-3

Nov 1962

Sep 1964

J-5

May 1964

Aug 1965

J-P

Aug 1964

Sep 1966

J-4

Mar 1965

TL Super

May 1966

Dec 1971

J-7

Nov 1966

Dec 1967

TL

Nov 1967

Feb 1969

TL Electro-X

Oct 1968

Jan 1974

TL-E

Jun 1969

TL Electro-X ITS

Dec 1970

Dec 1974

TL Electro

Apr 1972

Feb 1978

Electro AX

Mar 1972

Feb 1974

FFT

Jul 1973

Dec 1974
(*Note: "In Production" is based on decoding of serial numbers of found cameras, in reality, in most cases production probably started a little earlier and ended a little later. For two relatively low volume models, I have not found more examples than the months shown. Release dates could be two or three months after production commenced. Most sources claim that the Electro AX was released after the TL Electro, however, their release must have been close to each other, the earliest found is actually the Electro AX with very clear serial numbers. I have kept the order the same as generally believed on the basis that a difference of one or two months may just mean that there are earlier TL Electro examples not yet found.)
The first M42 model, the Penta J, was released in 1961 already (production starting in June and a claimed release in September), indicating a degree of panic and lack of commitment to fixing whatever the issue(s) with the Pentamatic was/were. In markets outside of Japan and USA, it was usually known as the "Reflex 35" even though the "J" is still on the exposure meter mount. Production of the Reflex 35 didn't begin until March 1962. The only specification differences between the two are that the Penta J has a split-image rangefinder as a focusing aid and the Reflex 35 uses microdots and initially, the Penta J used a film speed reminder dial in ASA only up to a maximum of 200 ASA, but the Reflex 35 release introduced a new combined ASA/DIN dial up to a maximum of 800 ASA for both models. This is an early Japanese Penta J brochure: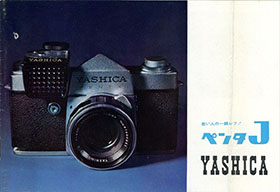 (Click on cover for full PDF brochure)
Although similarly styled to the Pentamatic models and still solidly built, the Penta J cut costs by reducing the maximum shutter speed from 1/1000 to 1/500, dropping the newly added self-timer and the faux-automatic lens aperture in favour of a manually cocked semi-automatic set-up styled along earlier Asahi Pentax lines, decreasing the maximum lens aperture to f/2 and of course, changing from the bayonet mount to M42 mount. The shoulder mounted accessory shoe was also dropped and the complicated film rewind and back opening mechanism was simplified. It retained the ability to fit the external exposure meter of the Pentamatic S but the Penta J version's piggy back shutter speed dial is limited to the camera's 1/500 speed. Specs and feature wise, it was a slightly cheaper version of the budget Asahi Pentax S1/H1 model, an indicator of where Yashica was now positioning itself: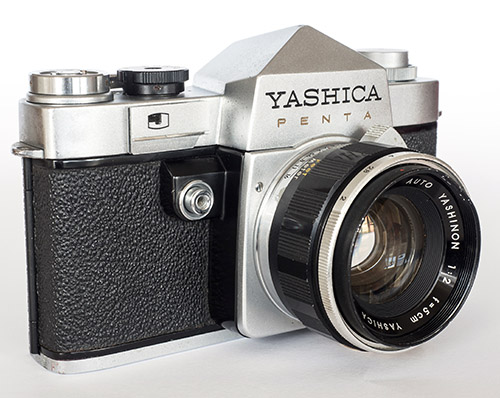 This is an early example. Note the Pentamatic and Pentamatic II style strap lugs, replaced during August production already by the Pentamatic S style lugs, and the black filled in "J" background, also changing to a plain outline near the same time (there are some mix and match examples of the various permutations around changeover time). Note also the gold filled "Penta" which later changed to black (very hard to track in photos). In contrast, below is a late Yashica Reflex 35 (all found examples look the same):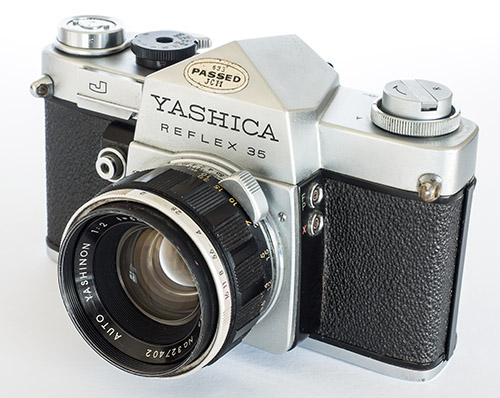 The name "Penta" makes sense as the aperture diaphragm is now not automatically cocked so the "matic" has been dropped but what does the "J" stand for? Nobody is absolutely certain but the two known Japanese ads have ジャガー written across the "J", meaning "Jaguar" (first identified for me by contributor Chris Whelan and also noted on several Japanese blog sites), however, "Jaguar" is not featured in the above brochure. Are the admen playing with us, or is that the real name, noting that the "Lynx" rangefinder was released in 1960?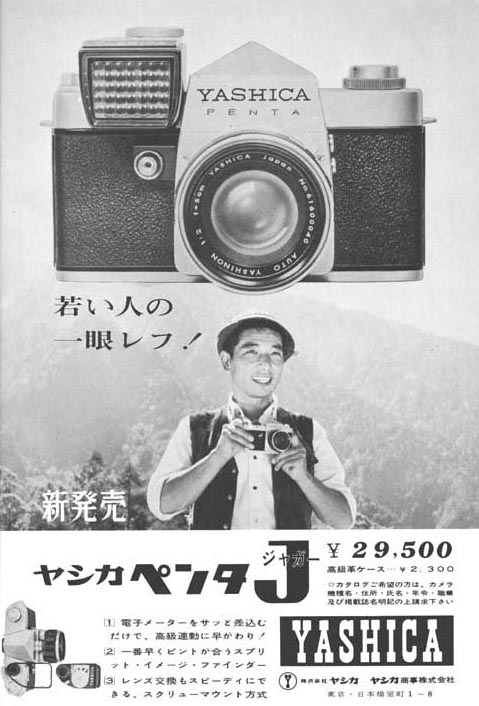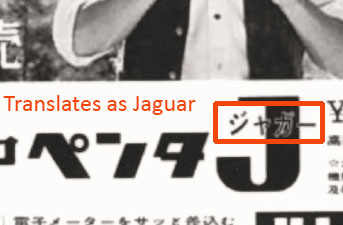 The Penta J was followed in late 1962 or early 1963 by the J-3 (production had started by November 1962) with built-in shutter coupled CdS exposure cell below the rewind crank, re-instated self-timer and shutter button on top of the camera for the first time. The normal lens remained the same semi-automatic type. A US brochure from the end of 1962 or beginning of 1963 features the Pentamatic S, Penta J and J-3 together.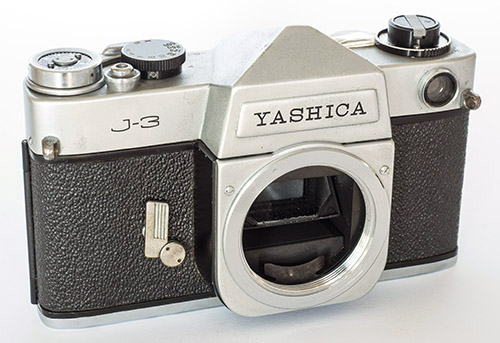 As the also released in 1962 Minolta SR-7 is credited with being the first camera to feature a built-in CdS meter, either Yashica copied the feature very quickly, or had been working on the same concept in parallel. The meter cell was located in much the same position. It is noteworthy that the Canon FX with similar arrangement didn't arrive until April 1964.
The J-3 was the only J model to be available in black. Very rare: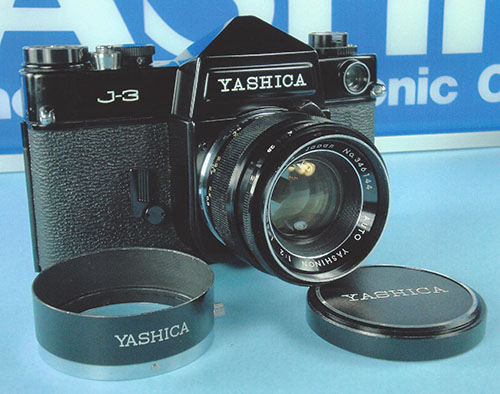 (Image courtesy of Chris Whelan)
After the J-3, with the exception of the two Wards models below, Yashica finally adopted automatic film counter reset. The J-5 and J-7 also featured 1/1000 shutter top speeds.
As far as I can tell from various sources and also serial numbers, the other M42 cameras followed in this order: J-5, J-P, J-4, TL Super, J-7, TL, TL Electro-X, TL-E, TL Electro-X ITS, TL Electro, Electro AX and FFT.
Yashica was also prepared to sell rebranded versions of its cameras. The first example below also clears up two great lens mysteries; the rare silver Tominon named version of the semi-automatic Yashinon 5 cm f/2, which seems to generate excitement amongst some collectors, and 35 mm f/2.8 and 135 mm f/2.8 accessory lenses marked "Nicca Lens/ Taiho Optical Co. Japan", Taiho Optical Co. being the Yashica owned company where it parked the remnants of the Nicca acquisition for eight years before fully absorbing it (see The Nicca Era).
US department store, Montgomery Ward, offered two Yashica based models. First appearing in the 1964 Fall Winter Catalog, these appear to be specials using an amalgam of parts. As they shared the user manual, they are certainly from the same period. Both models were supplied with a silver version of the later type all black J-3 manually cocked semi-automatic f/2 Auto Yashinon with continuous ribbing on the focus ring instead of the earlier scalloped grip and black and silver livery found on the Penta J and most J-3s (compare black J-3 lens immediately above to Penta J & Reflex 35 lenses). Instead of Yashica branding, the lenses are marked "Tomioka Opt. Co. Tominon". Because of the choice of semi-automatic lens, both cameras use the reflex mirror and aperture striker bar assemblies from the Penta J/Reflex 35/J-3 bodies (see paragraph 2 of M42 Mount Mystery), plus some other parts, but also feature some minor updates. The lower model is the "Wards SLR 500" which adds the Yashica J-P's top plate with distinctive CdS meter mount and later back opening mechanism but not the self-timer and the film advance lever remains the Penta J type with manual counter reset. The "Wards SLR 600" seems to be basically a J-3 but with top plate and exposure meter, less the battery check button, from the uncommon J-4 (basically the same as the J-7 but with 1/500 top speed). Wards SLR 600: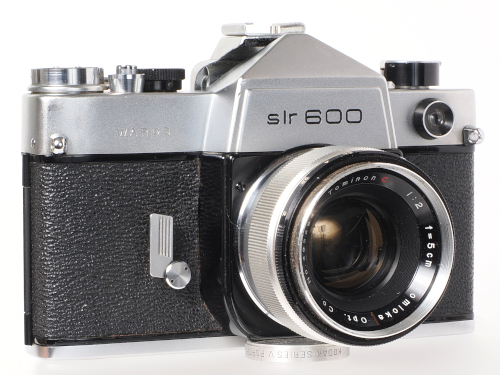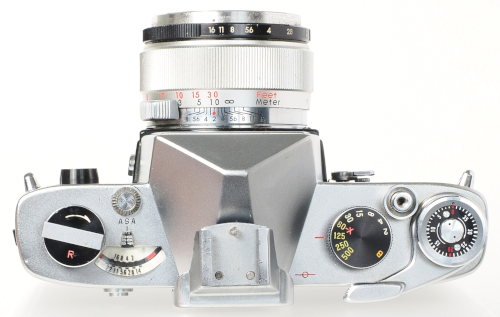 (Images courtesy of Kenneth Loen)
Correspondent Kenneth Loen notes that the 1964 Montgomery Ward catalogue listed 35 mm and 135 mm f/2.8 preset Tominon accessory lenses whilst the following 1965 Spring Summer Catalog listed Nicca branded versions. The Nicca lenses are quite rare but I have two or three of each in my database, both marked "Nicca Lens" and "Taiho Optical Co." My assumption is that Yashica used the Nicca name on rebranded lenses for the Wards pair because it couldn't use it's own. Personally, I doubt that the Tominon lenses were ever offered, no Tominon lenses matching their description have been found as far as I am aware. The 1964 Catalog lists the SLR 600 as becoming available to order and the image is a doctored Yashica J-3 suggesting that perhaps not everything had been finalised. The specs and catalogue numbers are the same for both the Tominon and Nicca lenses. I have saved Kenneth's research and more detailed explanation into the attached document. He has also created a camera-wiki.org page.
There was also a Yashica TL Super based model rebadged as a "Porst Uniflex 1000s" for a West German distributor. In an effort to differentiate it from Yashica models, the shutter dial colours were reversed, the film advance was from the TL-E model and the top plate seems to be unique without a mounting point for a permanent accessory shoe, let alone the the TL Super hot shoe, relying instead on a viewfinder eyepiece mounted accessory type from the J series: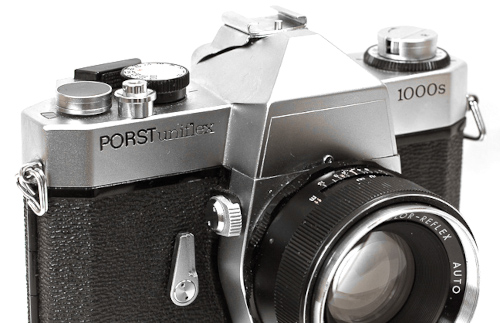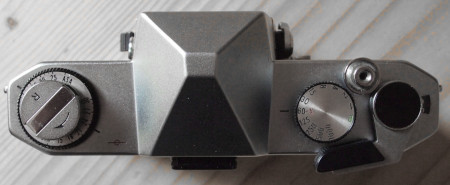 (Detail from larger web images)
The "J" bodies were one related family style-wise with design cues evolving from the Pentamatic and CdS exposure meters, if fitted, still used external cells shoulder mounted like the J-3. The rest belonged to the later, more angular bodied "TL" group and featured TTL, or through-the-lens, metering. TL Electro-X featured below (also available in black):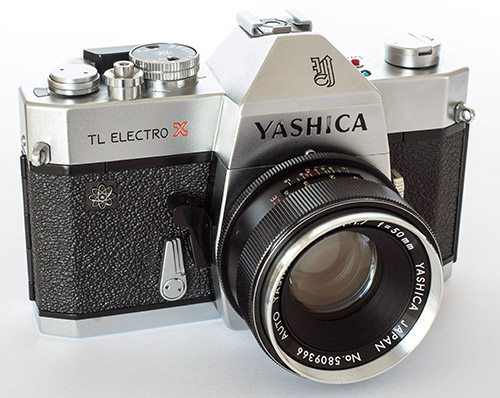 For all of Yashica's marketing hype about its advanced electronic controls, the electronics were limited. The headline feature was the Copal Square type mechanical shutter with electronically timed speeds below the 1/1000 maximum. Metering was stopped down through the lens like similar models but instead of the more typical and intuitive moving needle, the meter read out featured an over and under exposure light with correct exposure signalled by both being unlit, unless of course you had a battery problem. It offered a glimpse of the future without really changing anything for the better for the photographer.
Released with a black "X" in "ELECTRO-X" and a plain pentaprism housing, as below, the Gothic "Y" was soon added, as in the typical example above: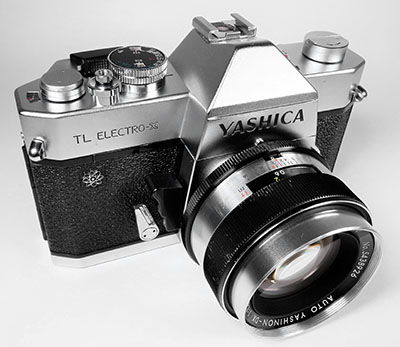 (Image courtesy of Chris Whelan)
This seems to have been a brief Japanese fad with the Olympus Pen F and the Petri Penta V6 also featuring similar letters.
The "electron mark", as it is called by Yashica but looks more like an atom, is also shared with Yashica rangefinder models from the period which also added automatic exposure control. It refers to the new electronics and was also used by other manufacturers too e.g. Minolta with its 1965 Electro Shot and a couple of Hi-Matic models, Ricoh Elnica F and M, Petri Computer II and ES Auto and even Argus with its Electronic 355X Instamatic 126 Film Camera. These were all rangefinder/viewfinder cameras and apart from the Minolta, are all later than Yashica's implementation. From a mid-1970s TL Electro-X brochure:

(Document search and scan courtesy of Chris Whelan)
There was also a later version of the TL Electro-X, only available in black, with "ITS" on the front and a gold electron symbol on the pentaprism. Some wags suggest that the letters stand for "It's The Same":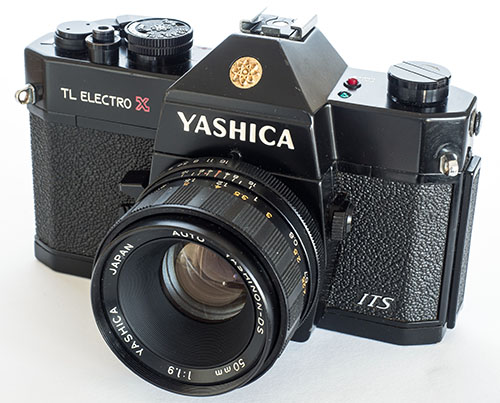 The ITS is rarely seen with the budget f/1.9 lens (bought separately) but it was listed as an option in this circa 1973 or 1974 brochure which covers most models and formats in production at the time: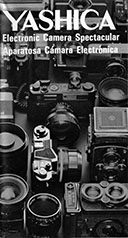 (Click on brochure for full PDF)
With the release of the Contax RTS and advent of the Contax/Yashica bayonet lens mount in 1975, production of remaining M42 models ceased except for the lower spec TL Electro which seemed to soldier on until 1978 or so, perhaps as an entry level model and/or to keep faith with existing M42 customers.
R.I.P.
In the US brochure, the Pentamatic S was advertised at "under" US$200 and the Penta J, at "under" US$130, firmly back in the more budget mass market territory that Yashica was familiar with (the original Pentamatic had been advertised at US$159.95). The ensuing models remained well built but were comparatively ordinary until perhaps the late 1960s TL Electro-X with electronically controlled shutter. Sales were also relatively lack-lustre.
To me, it seems as if the Pentamatic was designed by engineers who understood what was necessary to compete in the SLR market as it was developing but that it didn't really fit with the TLR marketing strategy that made Yashica successful - high volumes at low margins through good quality at prices that others could not match. With other new products at this time, this still seemed to be management's guiding principle whereas the Pentamatic was somewhat in the middle with specs and the price, whilst good value, was not a bargain. And of course, there was also the worst lens availability of any comparative model. There was no pretense of professional aspirations but it seemed to be developed with enthusiasts in mind whilst perhaps management was looking for a product for the mass market consumer. To some extent, this is reflected in the advertising material which continued to focus on the value aspect and is rather lacking in technical interest, as are the English user manuals, compared to other brands hungry to get their models noticed by "photographers".
The Pentamatic was not perfect but certainly seemed to have promise which was not realised for one reason or another.
Pentamatic Lenses
As noted earlier, only the 5.5 cm f/1.8 and 5.8 cm f/1.7 standard lenses were pseudo-automatic/automatic (depending on body), all the accessory lenses were of the pre-set type. The table below lists the lenses by focal length which is also pretty close to the chronology of the original lenses. The accessory lenses are split into two separate groups; the silver nose (what we might call "first series") released progressively with the Pentamatic and Pentamatic II and the black nose (what we might call "second series") released with the Pentamatic S and first M42 models and which in Pentamatic mount completely replaced the first series. The silver noses are also somewhat controversially split by likely maker leading to a further controversial naming of at least two black nose makers. The explanation and evidence is presented further below:
Focal
Length
Aper-
ture
Filter
Size
Lens
Cap
Lens Name
Serial
Numbers
K.C.
(red)
Comments

Standard Lenses

5.5 cm

f/1.8

52 mm

54 mm

Yashica Auto Yashinon
(6 aperture blades)

59100092

-

1 only, earliest standard Pentamatic lens
found in the wild (Chris Whelan)

5.5 cm

f/1.8

52 mm

Yashica Auto Yashinon
(9 aperture blades)

5910xxxx &
5912xxxx

-

2 series, standard Pentamatic lens until
about May 1960

5.5 cm

f/1.8

52 mm

Yashica Auto Yashinon
(6 aperture blades)

605xxxxx

-

Standard Pentamatic & Pentamatic S lens

5.5 cm

f/1.8

52 mm

Tomioka Tominon

600xxx

-

1 only, found with earliest Pentamatic S,
possibly not production lens

5.8 cm

f/1.7

52 mm

Yashica Auto Yashinon

424xxx to
595xxx

-

Standard Pentamatic II lens, continuous
serial number range with big gaps

Accessory Lenses - First Series, Silver Nose, Pentamatic Mount Only

Tomioka Made

3.5 cm

f2.8

52 mm

Yashica Tominon Super
Yashinon-R

350xxx &
364xxx

-

Two serial number ranges

10 cm

f/2.8

52 mm

Yashica Super-Yashinon

591005x

-

1 only, found with Tomioka Tominon

10 cm

f/2.8

52 mm

Yashica Tominon Super
Yashinon

100013xR

-

1 only found, note placement of "R" with serial number

10 cm

f/2.8

52 mm

Yashica Tominon Super
Yashinon-R

100xxxx

-

Kyoei Made

13.5 cm

f/3.5

52 mm

Yashica Super Yashinon-R

1350xxx

K.C.

13.5 cm

f/2.8

62 mm

64
mm

Yashica Super Yashinon-R

1328xxx,
1355xxx

K.C.

1 only1328xxx lens, rest 1355xxx

18 cm

f/3.5

62 mm

64
mm

Yashica Super Yashinon-R

180xxxx

K.C.

Relatively rare

25 cm

f/4

72 mm

75
mm

Yashica Super Yashinon-R

250xxxx

K.C.

Accessory Lenses - Second Series, Black Nose, Pentamatic Mount Only

Unknown Maker

3.5 cm

f/2.8

46 mm

Yashica Super Yashinon-R

28xxxx

-

All serial numbers start with "28"

Accessory Lenses - Second Series, Black Nose, Either Pentamatic or M42 Mount

Nissin Optical Mfg. Co. (Sankor) Made

3.5 cm

f/2.8

46 mm

Yashica Super Yashinon-R

28xxxx &
135xxx to
137xxxx

-

Serial numbers of first 3 start with "28" still

Unknown Maker

13.5 cm

f/3.5

40.5 mm

Yashica Super Yashinon-R

1351xxx

-

13.5 cm

f/2.8

55 mm

Yashica Super Yashinon-R

1351xxx &
1380xxx

-

1 only Pentamatic 1351xxx lens but M42 spans from 1351xxx to 1380xxx

Tokyo Koki (Tokina) Made

20 cm

f/4.5

43 mm

Yashica Super Yashinon-R

200xxxx

-

30 cm

f/5.5

43 mm

Yashica Super Yashinon-R

300xxx

-

6 digit number

40 cm

f/6.3

43 mm

Yashica Super Yashinon-R

400xxxx

-
(Note. The filter sizes for the Kyoei made lenses and lens cap sizes for standard and silver nose lenses are from page 48 of "Yashica Pentamatic Guide" by Paul Jonas, published in New York by Universal Photo Books, 1961, courtesy of a scan by correspondent John Farrell.)
The accessory lenses mostly use the focal length as the prefix for the lens serial number. The main exceptions are the second range of the first series 3.5 cm f/2.8 Yashica Tominon Super Yashinon-R which begin with "364", the second series (i.e. black nose) Pentamatic mount 3.5 cm f/2.8 Yashica Super Yashinon-R which uses aperture instead, the second version of which introduces "135" to "137" numbers and the one example of the 10 cm Yashica Super-Yashinon which uses a number similar to the standard lens format and is presumed to be an early type but was found with the Pentamatic S and Tomioka lens below. The first series 13.5 cm f/2.8 lenses mainly feature the focal length in the format of "1355xxx" but there is one early exception, 1328xxx, and the second series starts with 1380xxx but then seems to change to 1351xxx, i.e. the same as the second series f/3.5 type (I have double and triple checked all details).
Tomioka Tominon Normal Lens & 10 cm Mystery Lens
The one 5.5 cm f/1.8 Tomioka Tominon found with the earliest Pentamatic S (with very low pre-production like number believed to be made in February 1961 when the very next camera is from April when series production seems to have started) is a complete mystery. There is no way of telling whether it is original to the camera.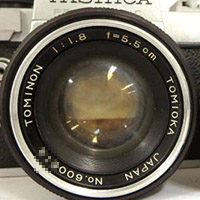 (Detail from larger web images)
The ribbing on the focusing ring is not continuous like on the other standard lenses and earlier (most) accessory lenses and is most commonly found on the later longer focal length lenses. Whereas some of the accessory lenses feature the "Tominon" name, it is the only Pentamatic mount lens where the "Yashica" brand is replaced by "Tomioka" suggesting that it is not a Yashica marketed production item. This lens could have been testing the ribbing on/for the standard lens but it could also be an even earlier prototype of the standard lens from before the Pentamatic release. If not a prototype of some type, then I would presume a Tomioka initiative to sell a replacement spare.
Also found with this set is the only 10 cm Yashica-Yashinon with odd 59100xx lens number which matches the number style of the first of the Pentamatic body numbers. It is the only accessory lens example in my database of any length without the "Yashinon-R" name, although the first 10 cm Super Yashinon, places the "R" at the end of the serial number, i.e. 100013xR. 10 cm Yashica-Yashinon: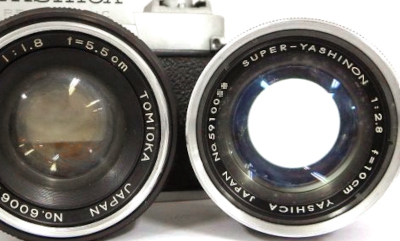 (Detail from larger web image)
The two lenses and camera were for sale together on a Japanese auction site. It is possible, and even likely, that none of the items are directly related to each other in a timeline sense, the common denominator perhaps being that originally none of the items were possibly meant for retail sale, i.e. they may have been pre-production items. Yashica did go bankrupt and eventually Kyocera became the owner - at any point in the process, all sorts of stuff may have been sold off to pay down debt and "unnecessary" inventory etc.
Accessory Lenses
Silver Nose
As alluded to earlier, there are two main series of accessory lenses; the silver noses and the black noses. The silver noses have a distinct family similarity to the standard lens and most seem to be designed for the Pentamatic mount, the exception perhaps being the 25 cm which may have a replaceable mount of some type. However, the evidence is mounting that the silver noses can also be be further divided into two; those made by Tomioka and those made by Kyoei Optical Co., Ltd., maker of Yashica's 13.5 cm f/3.5 Super Yashinon for the YE and YF.
The silver nose series were released in two batches with only the f/2.8 3.5 cm and 10 cm lenses appearing in the first Pentamatic user manual (see further above). By the time of the Pentamatic II, there was nearly a full set to 25 cm in this Japanese ad or brochure, only the f/2.8 version of the 13.5 cm is missing but I have found several actual examples and it appears as one of the set of six available lenses in a US Pentamatic ad appearing in Popular Photography (date unknown) and in the US Pentamatic brochure below this one: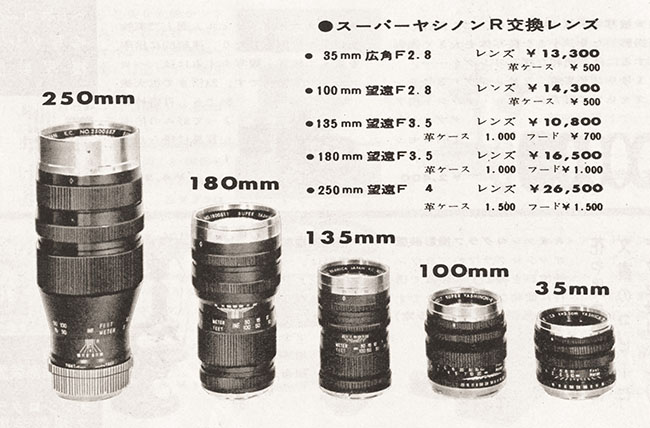 (Scan courtesy of Chris Whelan)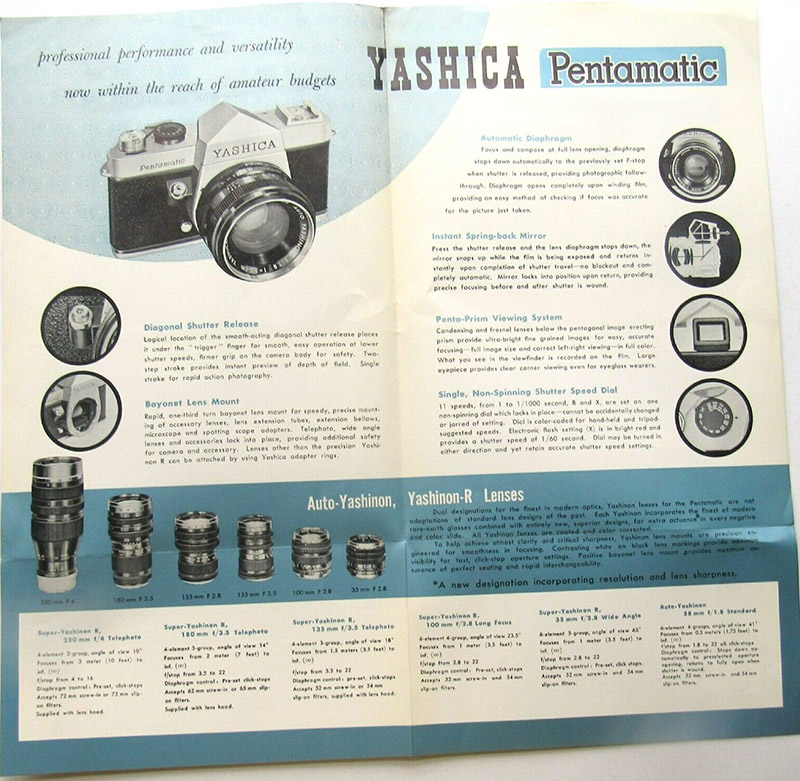 (Seller's scan of Pentamatic brochure bought by Chris Whelan)
The first released 3.5 cm and 10 cm lenses are clearly Tomioka's, the "Tominon" name on the front making it irrefutable. The 18 cm and 25 cm lenses match the proportions of the same spec Kyoei "Acall" lenses in a Kyoei lens catalogue. The ribbing and proportions of the 13.5 cm f/3.5 are admittedly different, the Acall having scalloped aperture and focusing rings and the head of the lens has a bigger diameter than the base. However, it turns out that there at least three versions of the lens, not counting the LTM version and its varieties.
The first version is somewhat reminiscent of the LTM appearance-wise and has the distance and DoF scales near the lens mount (i.e., below the focusing ring). The catalogue version is as described above with the different appearance and proportions but with the distance and DoF scales in the middle (i.e., above the focusing ring). Contributor Chris Whelan has found a single example of a third version of the Kyoei Acall on Flickr (full size image) which is identical in every way to the "135mm" in the middle of the above Japanese image except the mount (Exakta), the colour of the graphics (but not the style or detail) and the very edges of the ribbing which are polished alloy in an unusual very fine zebra effect (perhaps to complement the coarser zebra look on some Exakta lenses from 1956 to the early 1960s). Chris Whelan's Super Yashinon-R version of the lens is the first image below followed by René Maly's Kyoei Acall: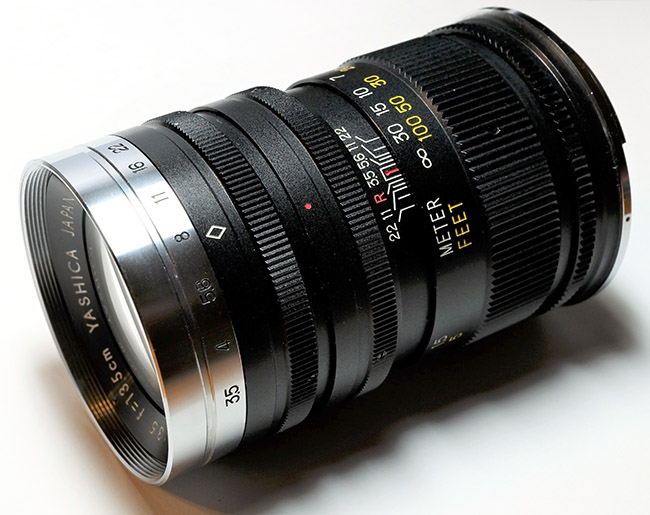 (Image courtesy of Chris Whelan)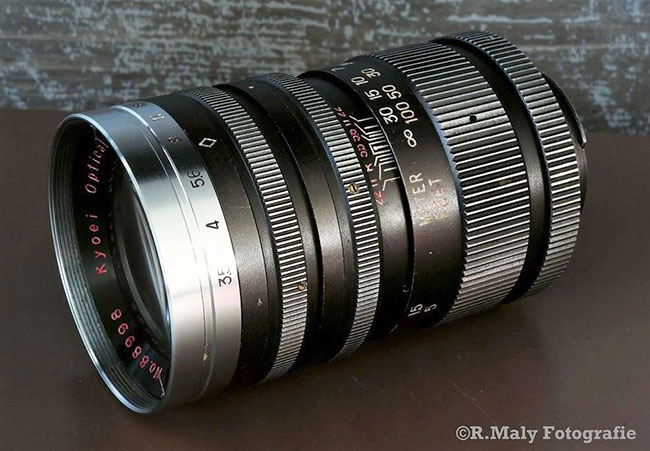 (Image courtesy of René Maly)
They are clearly the same lens with minor cosmetic fiddling (Chris and I have another three of René Maly's photos of the lens, one confirming the same 12 bladed aperture, and of course Chris has his Super Yashinon-R to compare).
The Acall noses in the catalogue are black and the Super Yashinon-Rs and the Acall above are chrome. The Super Yashinon and Acall 25 cm lenses below share the same unusual tripod mount and general detailing: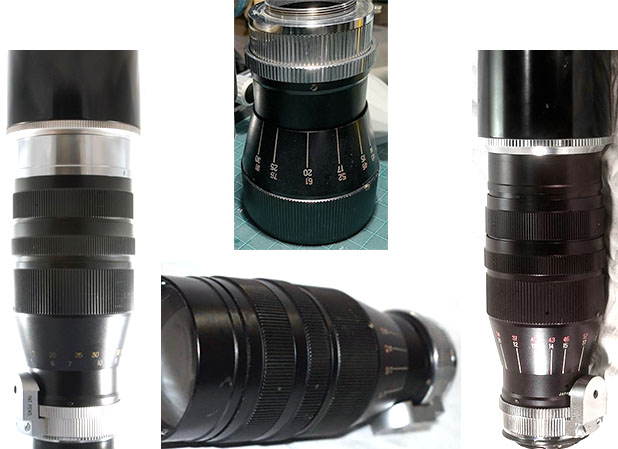 (Detail from larger web images)
Left lens is Super Yashinon-R with screw on hood, top middle lens is the bottom end of a dismantled Kyoei Acall, bottom middle lens is a Kyoei Acall, right lens is an off-brand identified as Kyoei made with screw on hood.
The four Super Yashinon-Rs (including the 13.5 cm f/2.8) thought to be Kyoei made all have a red "K.C." marking on front, the only Yashica lenses to feature that. "Acall" branded lenses don't have that marking but it appears on Kuribayashi's first Petri M42 lenses which several sources claim were also made by Kyoei (not the normal focal length lens) and closely match the lenses in the Kyoei catalogue.
Black Nose
Production of both the Pentamatic and Pentamatic II seemed to end abruptly in January 1961. When the Pentamatic S was released a few months later, the silver nose accessory lenses apparently disappeared as well. All of the found Pentamatic S brochures feature a new set of lenses from 3.5 cm to to 40 cm. These have black noses, different cosmetics and come in either Pentamatic or M42 mount. The mounts look to be easily interchangeable. The 10 cm length is dropped, the 18 cm replaced by a 20 cm, the 25 cm replaced by a 30 cm and there is a new 40 cm. The page below is from a Yashica lens brochure featuring both mounts:
(Scan courtesy of Chris Whelan)
(Click on chart for larger version)
The same lenses appear in this Pentamatic S system brochure, however, note that the picture and filter size (40.5 mm) for the 135 mm lens appears to be for the f/3.5 version of the lens (not otherwise mentioned), not the f/2.8 as it is named: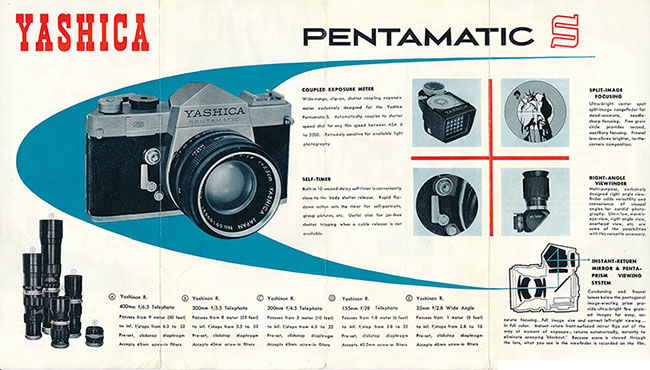 (Scan courtesy of Chris Whelan)
(Click on scan for PDF of complete brochure)
The 13.5 cm f/3.5 does appear in a later brochure featuring the Pentamatic S and Penta J and J-3 M42 cameras. That brochure also mentions a 90-190 mm zoom lens available in either mount, relevant portion reproduced below: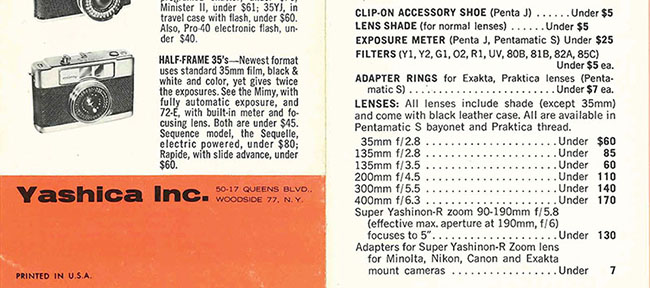 (Scan courtesy of Chris Whelan)
I think that the first series and second series images in the brochures and the differing focal lengths and filter thread sizes (see table above) make it very clear that the lenses are not related. The abrupt change of direction by Yashica seems to be related to the desire for lenses to be suitable for either mount and to be available immediately. I suspect that by this time, Yashica knew that the Pentamatic and its mount were on borrowed time and maybe the wholesale move of the earlier Pentamatic lenses to the interchangeable mount series was to allay the possible ill-will from people buying a lens for their Pentamatic only to be stuck with an unsupported mount in the future?
The 20 cm, 30 cm and 40 cm lenses are almost certainly rebadged Tele-Tokinas/Minetars made by Tokyo Koki Co., Ltd., later known as Tokina. The f/3.5 and f/2.8 versions of the 13.5 cm look like they are related to each other but not to the Tokinas. Their origin remains an unknown and I'm still searching for examples that match exactly. There are two different versions of the 3.5 cm lens, at least one is a rebadged Sankor (see below). Except for the first type 3.5 cm black nose, the barrels were threaded for T-mounts (invented by Tamron) to which screwed various dedicated mounts such as M42, Pentamatic and quite a few Super Yashinon-Rs have been found with Minolta mounts. These mounts were locked in place by set screws - changing a mount involved loosening the set screws, unscrewing the mount from the T-mount and then reversing the order with the new mount. Simple and no doubt something which appealed to Yashica with its new two mount SLR range.
Below is the 20 cm Minetar version, the bayonet mount type is unknown: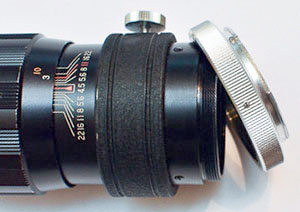 (Detail from larger web images)
Compared to the 20 cm Super Yashinon-R in the brochure, the only difference is that lens hood is unscrewed and the lens focus has been cranked out to a relatively near position instead of infinity. Below is a 20 cm Super Yashinon-R in M42 mount, sans hood, with focus set at 15 metres/50 feet: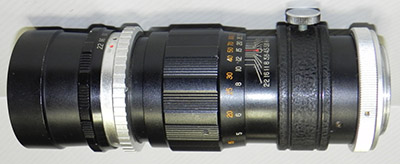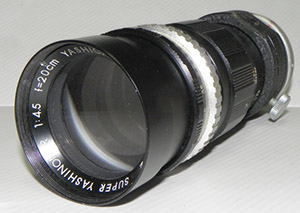 (Detail from larger web images)
The Tokyo Koki Co., Ltd., maker name appeared on the Tele-Tokinas and Minetars but they were sold as various other brands as well, e.g. Lentar seems fairly common in the 20 cm size at least and also Hanimex. Once automatic diaphragms became popular, their proprietary actuating systems removed the attraction of the T-mount except for the most basic of lenses. Yashica then moved on to its new line of M42 lenses but interestingly, the 30 cm/300 mm version with T-mount from the above brochure still appears as a budget option to the auto version in the Yashinon-DX lens catalogue, which by now presumably featured mainly Tomioka made lenses.
Black Nose 3.5 cm
Curiously, there are two different black nose f/2.8 3.5 cm lenses. The first type is only found with a Pentamatic mount and is the only one of the black nose types to not feature an easily changeable mount. It seems to be the type pictured in the Pentamatic S brochure above. The second type was available with either mount and is the one featured in the lens catalogue and listed in the partial brochure scan above. Whilst at first appearing similar to each other, virtually every detail is different between the two types. In the typical Yashica fashion of the time, the first type turns to the left for infinity focus whereas the second type turns to the right (as do the two 13.5 cm lenses).
The origin of the first type is unknown but the second type is clearly the same as the Sankor lens from this period. Sankor lenses were made by Nissin Optical Manufacturing Co. Ltd. of Japan, a company that still seems to be in business today. Whilst its still photography lenses are not well know, its anamorphic cinematography lenses seem relatively common. Sankor lenses were also rebadged under many distributer names such as Accura and Spiratone.
Image 1 below is first type in Pentamatic mount, image 2 is second (Sankor) type in Pentamatic mount and image 3 is second type in m42 mount (the first and third lenses have their rear caps fitted):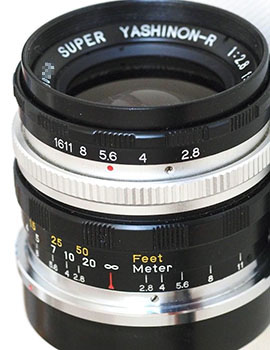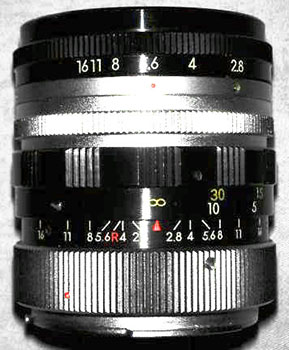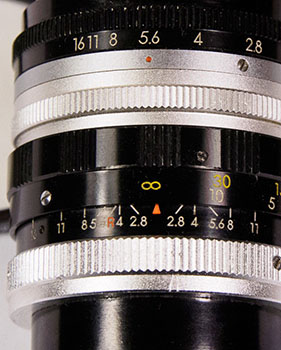 (Detail from larger web images)
Zoom Lens
A little further above, I also mentioned the Yashinon-R f/5.8 90-190 mm zoom that seemed to appear right at the end of Pentamatic S advertising. Curiously, the brochure extract also mentions that Yashica was willing to sell you an adaptor for Minolta, Nikon, Canon and Exakta mounts. The first zooms for still photography were just starting to appear at this time. A similar zoom appears in the Ricoh catalogue and as Tomioka was known to have made lenses for Ricoh as well as Yashica, some think that it is a Tomioka lens. Others have attributed it to Tokina. There were certainly plenty of brands using it. As well as Yashica and Ricoh, found examples include Beroflex and Polaris in M42 mount, Soligor in Canon FD mount and Upsilon in Minolta mount and Hanimex in an unknown bayonet. In all likelihood, the non-camera makers offered it in all common mounts and there are probably other brands as well. Some later versions feature an auto aperture - in the case of Yashica, the lens became an Auto Yashinon. By the time of the DX catalogue, it had been replaced by a new Auto Yashinon-DX f/4 80-160 mm zoom. My personal view is that the maker remains unknown - I have not seen any hard evidence, just opinions.
Pentamatic Accessories
This is The Pentamatic System page from a 1960 US brochure (note, the 135 mm and 250 mm lenses are not pictured but are mentioned):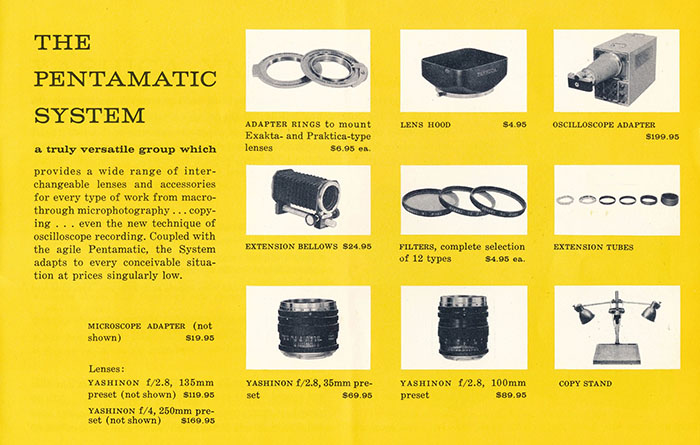 (Scan courtesy of Chris Whelan)
The available accessories noted in user manuals and brochures (some depicted above) include Exakta bayonet and Praktica screw (M42) lens mount adaptors, extension tubes, bellows, microscope adaptor, right-angle finder, lens hoods, filters, copy stand and clip on exposure meter for the Pentamatic S (modified version without 1/1000 shutter speed available for the Penta J). I have recorded examples of all for sale on eBay (many of them still boxed so easy to identify for Pentamatic). Also usually listed is an oscilloscope adapter which, not surprisingly, I am yet to see outside of Yashica documentation and in a Pentamatic S system brochure, a spotting scope adapter which I have also not seen. Surprisingly, the only reference to flash as a Yashica accessory is also in the Pentamatic S brochure; "A variety of standard and special Yashica flash units, bulb and electronic, are available ...". Below is a Pentamatic S complete with original neck strap and accessory exposure meter and 54 mm slip-on lens hood: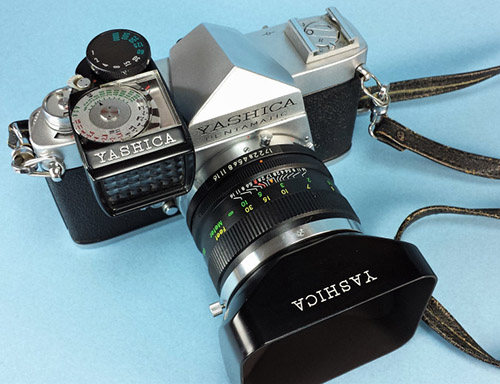 (Image courtesy of Chris Whelan)
This example is fitted with the 5.8 cm f/1.7 standard lens from the Pentamatic II .
M42 Mount Mystery
One other not so well known mystery is that why Yashica, having decided to embrace the M42 mount and refer to it as the "Praktica" mount, it then chose to deploy it using the aberrant Edixa implementation of rotating the mount clockwise by some degrees. Note, the rotation is not related to the lens register as claimed by some, that remains the same. Edixa's reasons are presumed to relate to the external diaphragm coupling on some of its lenses. Yashica didn't use external coupling and seems to have had no reason whatsoever. This was brought to my attention by correspondent John Farrell who noted that "the lens from a Yashica Reflex 35, fitted to a Pentax SV, has the focusing index mark at 11 o'clock - and a Pentax lens on the Yashica, has the mark at 1 o'clock." There are posts about this on the net and I have also confirmed this behaviour but with a Takumar on a later TL Electro-X, the rotation was closer to 2 o'clock. Manual lenses are unaffected, apart from the normally centered scales being oddly offset, but with automatic and pre-set lenses, the issue is about the ability of the striker bar just inside the camera lens mount at the bottom to hit the stop-down pin when Edixa mount and non-Edixa mount cameras and lens are mixed and matched. Usually, it is not a problem but nevertheless, it is a decision that defies explanation.
Note, Yashica M42 bodies designed for semi-automatic lenses, i.e. Penta J, Reflex 35 and J3, use the striker bar to simply trigger the manually cocked lens aperture diaphragm whereas bodies designed for fully automatic lenses use the bar to push down the stop-down pin, hold it down and then release it after the shutter closes. On the earlier bodies, the bar is directly connected to the shutter button and even if the shutter is not cocked, the button can trigger the diaphragm to fire and close the aperture down. On later bodies, the shutter must be cocked first because the camera body does the work, the lens merely providing a spring to keep the aperture blades in a naturally open position. The two systems look similar but work quite differently. Using later fully automatic lenses on the earlier bodies means that the aperture will not close down. That is especially problematic for Yashica lenses which don't have a Manual/Auto switch, unlike Asahi Optical Co. Takumars, for example.
Claims of Zunow Sourced 35 mm Lenses
There are persistent rumours on Japanese blog sites that some 4.5 cm f/1.8 lenses fitted to the Lynx 1000 rangefinder camera released in mid-1960 were made by Zunow. We have already seen the close link with Zunow regarding the cine lenses. Chris Whelan and I have have done some investigation and Chris has even acquired two of the Lynx cameras. We don't know whether there is any truth to the claims but this is what we do know. Early lenses starting with "3" for the serial number (mostly 6 digit but one with 7 digits) until about November 1960 (we know that from the camera serial numbers) have a different style and font for the text on the front of the lens to nearly all other Yashica lenses, both earlier and later. Incidentally, the presence of "No.", abbreviation for "number", in front of the body serial numbers on cameras made prior to late November 1960 and "L" on subsequent cameras is pure coincidence related to new serial numbering for all models and the pattern can also be found for the same vintage Yashica YK ( prefix "K") and Yashica 35 (prefix "F") examples, but generally, the cameras with the early type lenses are the 1960 examples with "No." in front of their serial numbers. (Note, whilst the Lynx 1000, Yashica YK and Yashica 35 got their identification letters in November 1960, the TLRs didn't get them until 1 January 1961, but they did instead get interim 2 digit model identifiers as early as September 1960 for some models.)
On the early Lynx lenses, "Number" is abbreviated as "No" (note, no period, or full stop). Also, the lower case "a" is different. Early Lynx lens front group on left, later on right (all later lens numbers are 7 digit, starting with "5" or "6"). The front element also sits deeper in the left early example and there are other physical differences inside.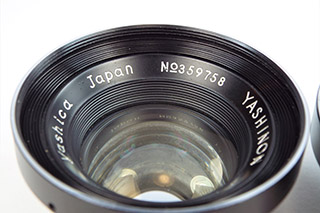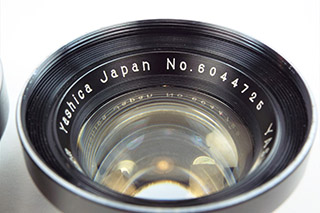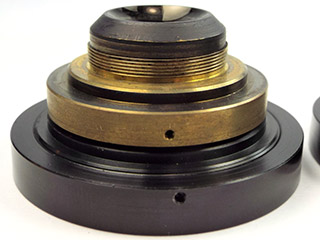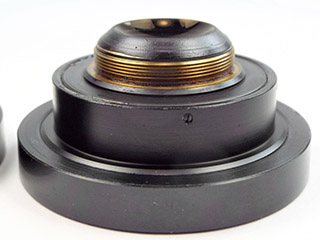 (Images courtesy of Chris Whelan)
Why is that interesting? As noted, the font on the right lens is representative of most Yashica lenses (assumed to be made by Tomioka, later lenses changed to mostly capitals) whereas the font and spacing on the left earlier lens, and in particular the "No" but also the "a"s and "J", are absolutely more typical of Zunow made lenses than not (less so with cine lenses, especially those fitted to Yashicas, but Zunow-Elmo cine lenses use the "No"). Below is an f/2.8 4.5 cm Zunow lens on the Neoca SV Super, there was also an f/1.8 4.5 cm lens on the Neoca SV Deluxe with similar style text and numbers on the front. Note both the "No" and the "a"s and the font generally for "Japan" (in the interests of full disclosure, the style of Zunow "a" is also used on the later Penta J and J-3 Auto Yashinon standard lenses - there is no suggestion that they were made by anyone other than Tomioka):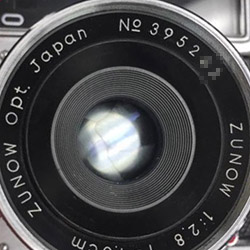 (Detail from larger web image)
There are only two other Yashica lenses featuring this style (with both, the "No" and different "a"). The first is probably a big surprise when I say it is the lens fitted to the Yashica YL. Actually, it isn't likely another lens, it is almost certainly the same one. The wikis and other sources will say that the YL was available with either an f/2.8 lens or an f/1.9 lens and these are widely believed to be the same as fitted to the original Yashica 35. Yes, but this camera is also found with two different f1.8 lenses, one with text like the left lens of the pair above, the other with text like the right lens. Of 42 cameras I have found, 12 have the f/2.8 lens, 9 have the f/1.9, 17 have a similar lens to the left f/1.8 example above and 4 have a lens like the right one. More at Yashica YL.
The second is the short lived f/1.7 5.8 cm lens released with the Pentamatic II in about September 1960 with the last example of the camera being made in January 1961 (last that I have found). Note, the font for "Japan" is different to the above lenses, more refined and closer to the "standard" Yashica style but still with the other variations noted. This lens, differed from the Pentamatic and Pentamatic S f/1.8 5.5 cm version by featuring a stop-down depth of field (DoF) preview button, 10 bladed aperture diaphragm versus 6 (9 on some early versions) and with the aperture ring spinning in the Zunow SLR-like opposite direction (to the right to open the aperture when holding the camera). That's a big thing - until now, on all Yashica's 35 mm lenses, from the Yashica 35, the YE and YF to the Pentamatic and all their accessory lenses to date, both distance and aperture scales spin to the left for longer distances and wider apertures respectively (the focus ring on three later black nose accessory lenses, the second 3.5 cm and the two 13.5 cm lenses, spin to the right). Pentamatic II f/1.7 lens on left, Pentamatic S f/1.8 lens (same as the Pentamatic type) on right: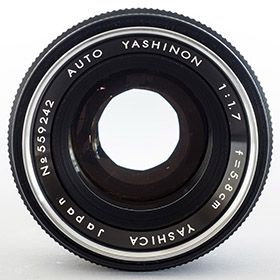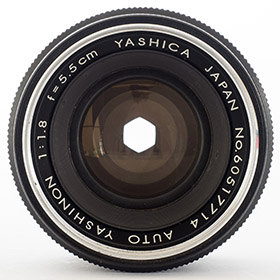 The DoF preview button is interesting. Once pressed, it stays stopped down, even after releasing the shutter. To re-open the aperture diaphragm to its normally fully open position requires operation of a sliding switch next to the button. This two stage operation also featured on at least the standard lens for the Zunow SLR.
Another thing about most "Yashica" 35 mm lenses is that they tend to have longer serial numbers, 7 or 8 digits, often starting with a descriptor number that usually gives a clue to focal length, occasionally a clue to aperture and with some early lenses, perhaps some date information, e.g. Pentamatic f/1.8 5.5 cm lenses begin with 5910, 5912 and 605 which may be related to 1959 and 1960 and perhaps even months in some way (October 1959 could be finalisation of the lens design, lenses starting with 605 reverted to 6 blade aperture diaphragms and first appeared fitted to May 1960 produced Pentamatics). The descriptor number is followed by a cumulative sequence number which counts up from zero and is continuous without breaks. The f/1.8 5.5 cm lens serial numbers suggest a total of just over 20,000 made which is about the same as the total of Pentamatic and Pentamatic S cameras.
Zunow numbers tend to be shorter and all the digits appear to be part of a sequence number which counts up from some arbitrary point but it is more complicated than that. The f/1.7 5.8 cm lens serial numbers range from 424xxx to 595xxx but with quite a big gap in the middle - my database contains number ranges 42xxxx to 43xxxx and 55xxxx to 59xxxx and gaps elsewhere. The total number of lenses produced was perhaps less than 6,000, see Serial Numbers & Production below, considerably less than any interpretation of the serial numbers suggest. Both the early Lynx lens and the f/1.7 5.8 cm lens seem more Zunow-like than Yashica-like in numbering style.
Is it merely coincidence that both lenses disappeared at about the time of Zunow drawing a line under its then current operations and reforming as Ace Optical Co., Ltd. in partnership with cine customer Elmo?
A Mamiya Twist
Just to confuse the matter more, if the f/1.7 5.8 cm lens was killed off, it seems to have been resurrected as the standard lens for the unrelated Mamiya Prismat WP, also rebadged as an Argus (on which the lens seems to be more commonly found), reputedly released in July 1962 (first identified by sharp-eyed contributor, Chris Whelan):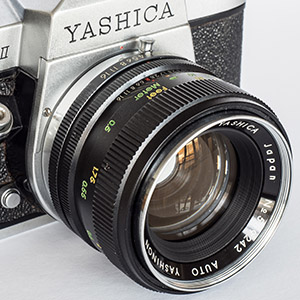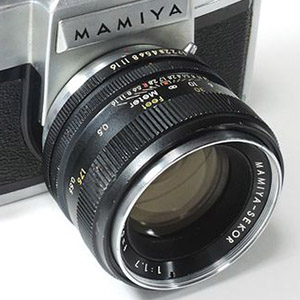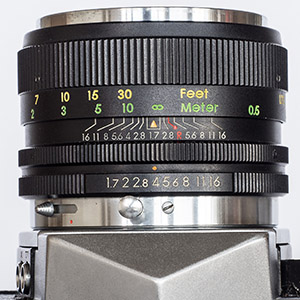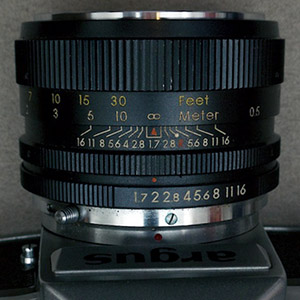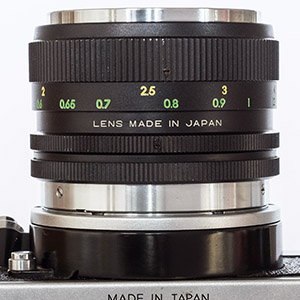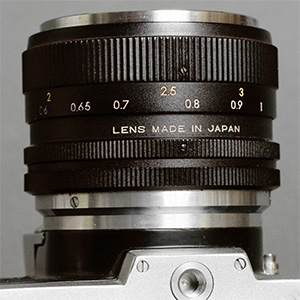 (Right photos, detail from lager web images)
Same Pentamatic II in left photos, Mamiya-Sekor top right and different Argus-Sekor examples middle and bottom right. Below left is an image by Chris Whelan of his Auto Yashinon barrel with front lens blocks removed, below right is a similar image from a tear down of the Mamiya-Sekor on a Japanese blog site: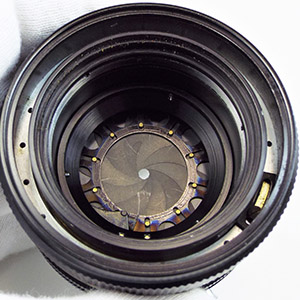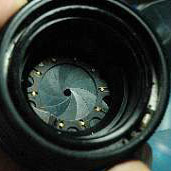 (Left photo courtesy of Chris Whelan, right photo detail from Japanese blogsite)
Note, some sources claim that the Argus mount is different to the Mamiya but I believe that is incorrect. The people that make the claim seem to be unaware of the Prismat WP. For the first production Prismat (according to Japanese Wikipedia, the little-known Prismat CLP, an export only model released in January 1960) and the Prismat NP, Mamiya used the German Exakta mount. There was a move apparently by at least some Japanese companies to use a standard bayonet - that fell through but Mamiya used it on the WP (Sugiyama calls it "special mount") and I also believe on the rebadged Argus variant. There are some suggestions that it was also the bayonet mount used by Asahi Optical Co., Ltd. on the 1960 Pentax Spot-Matic (note, not the M42 Spotmatic which debuted in 1964), and Metalica prototypes. Like Yashica, the following Mamiya models adopted the M42 screw mount. Apart from being bayonets, as far as I can tell, the Yashica and Mamiya WP mounts are quite different, e.g. the film plane to lens mount flange distance of the Pentamatic is 43 mm and the Argus (also I assume the Prismat WP) is 44.45 mm.
The only obvious differences between the left and right lenses above are the bayonet mount, the colour of the scales (the scales, their placement and fonts themselves appear identical) and the Pentamatic II lens has a button on top as well as a sliding switch on the side whereas the Prismat WP and Argus lenses don't have the button but have the same switch in the same place as on the Pentamatic lens (the knob has a less pointy profile on the Sekors and on those, in the photos is sitting at the opposite end of the slot to the Yashica lens). On the Auto Yashinon , the button stops the lens down for DoF preview and the sliding switch re-opens the aperture diaphragm fully whereas the Sekor switch combines the functions in a more commonplace implementation. All the lenses have 52 mm filter threads, 10 bladed aperture diaphragms and an aperture ring that spins the same way (there was an earlier Exakta mount Mamiya Sekor f/1.7 58 mm with 9 bladed aperture diaphragm, an aperture ring that spun in the opposite direction and an external shutter coupling - the appearance of this was quite different). Yashica advertising tells us that its lens is comprised of a fairly standard 6 elements in 4 groups, Japanese Wikipedia confirms the same for the Mamiya-Sekor.
A Japanese blogger has also made the same discovery as Chris Whelan but I can't find the actual page on his site anymore. The information is not that helpful and it is only his guess that Mamiya may have been responsible for both lenses, however, there are quite a few side by side images of the two lenses and cameras (he owns both). Below is one of the side by side lens images. Left is Auto Yashinon with DoF button and reset slide sitting at rest to picture left and right is Mamiya-Sekor sans the button and with the DoF slide sitting at rest to picture right: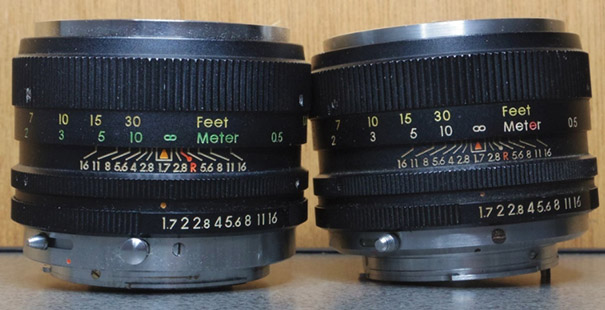 (Detail from larger blogsite image)
Whose design it is and who made it are complete unknowns but if it was a Zunow design, it is possible that the new Zunow, now reformed as Ace Optical Co., Ltd., produced it, or perhaps the design and tooling had been sold off. Note that there is no hard evidence that it is not an original Tomioka design, just circumstantial differences. Although possible, it is unlikely to be a Mamiya sourced design as it appeared on the Yashica first and follows the signature Yashica Pentamatic lens style. The subsequent Mamiya Sekor M42 f/1.7 58 mm looks completely different but the 10 bladed aperture diaphragm and aperture ring direction are retained so the two generations may be related. As far as I am aware, the combination of f/1.7 aperture and 58 mm focal length is also limited to the Pentamatic II lens and the three different mount Mamiya lenses.
The Argus user manual has details of f/2.8 35 mm and 135 mm Argus-Sekor lenses with fully automatic aperture diaphragms. They appear to share physical characteristics, including the DoF preview lever, with the standard f/1.7 58 mm lens. Japanese Wikipedia also mentions companion Mamiya-Sekor versions for the Prismat WP. So the intriguing question is whether they are newly designed or share the same source as the standard lens. They could have been designed for the Pentamatic without ever going into production. With only the standard lens and the one wide angle and one telephoto, it is hardly surprising that the Prismat WP and Argus are at least as rare as the Pentamatic.
Note, prior to the Prismat WP and Argus, Mamiya released the Prismat NP, still with the original Exakta mount and external shutter coupling but with the standard f/1.9 50 mm lens made by Canon complete with Canon markings. There is some debate about whether or not Mamiya made its own 35 mm lenses but clearly, it didn't make all of them.
Whilst much of this is guess work, the existence of the nearly identical lenses used by two different camera makers and possible Zunow connection are part of the greater Pentamatic mystery.
Serial Numbers & Production
The camera serial numbers (see Serial Numbers Page for the different formats) for the early SLRs feature a date code followed by a sequence number which counts up production from basically zero (the first numbers are likely taken up by pre-production examples that follow prototypes). This sequence number is the last 5 digits for most early models and the last 4 for the Pentamatic S. Therefore, the highest serial numbers found give us production up to that point. There are always likely to be higher numbers still not found so it is a good indicator but not an absolute. The table below lists the highest sequence numbers for the Pentamatics and early M42 models giving a fairly accurate picture of production:
| Model | Production |
| --- | --- |
| Pentamatic | 16,818 |
| Pentamatic II | 5,320 |
| Pentamatic S | 3,167 |
| Penta J | 40,757 |
| Reflex 35 | 10,943 |
| J-3 | 37,681 |
(Note, the sample size of both the Reflex 35 and J-3 is relatively low and therefore these numbers could be significantly under-stated)
The Penta J and Reflex 35 are basically the same camera and should be considered together. Whereas the Pentamatic numbers must have disappointed Yashica, the attempted updates fared much worse. Even the M42 models must have been a disappointment remembering that Yashica's sharp pricing relied on volume for profit.
User Manuals
English Pentamatic manual: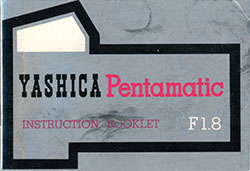 (Click on cover for PDF of full manual)
Japanese Pentamatic II manual: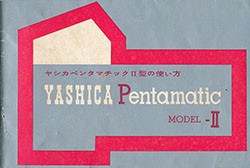 (Click on cover for PDF of full manual)
(Scan courtesy of Chris Whelan)
English Pentamatic II manual. This is not a translation of the Japanese version. It is a very basic adaptation of the original English Pentamatic manual with only a few of the photos and bare minimum information updated to the new model (plus increased availability of lenses). Its purpose is guesswork but its intended users are unlikely to have been mass market customers:
(Click on cover for PDF of full manual)
(Scan courtesy of Chris Whelan)
Pentamatic S manual: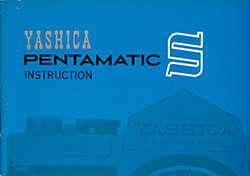 (Click on cover for PDF of full manual)
(Scan courtesy of Chris Whelan)
M42 Reflex 35 manual, basically same camera and similar manual to Penta J:
(Click on cover for PDF of full manual)
In the Pentamatic Box
What was in the Pentamatic box - missing the neck strap and there would have been warranty documents too: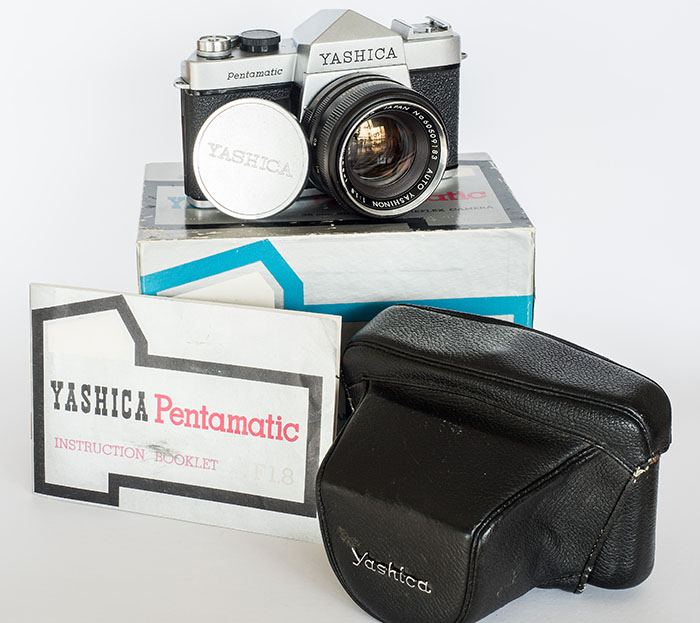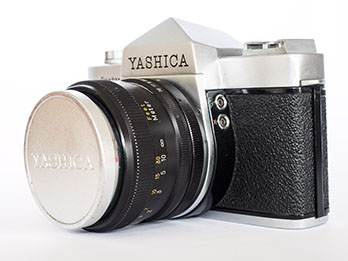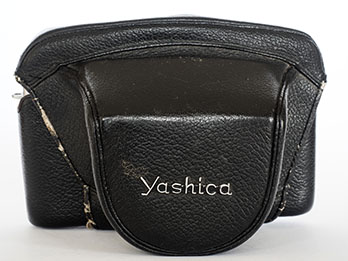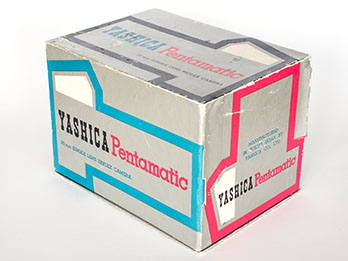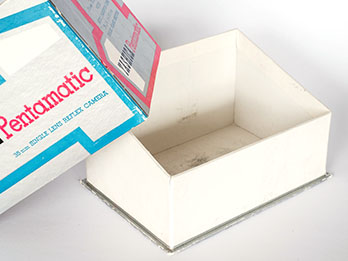 Pentamatic II case logo and same style box with lift off lid: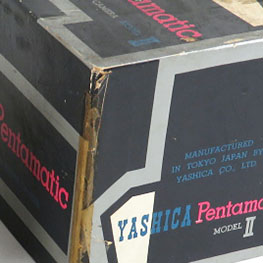 (Detail from larger web images)
Revised Pentamatic S case with full width snout, new logo and below, new style box with flap style lid: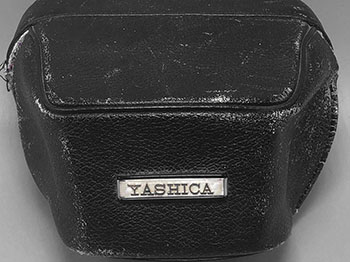 (Detail from larger web image)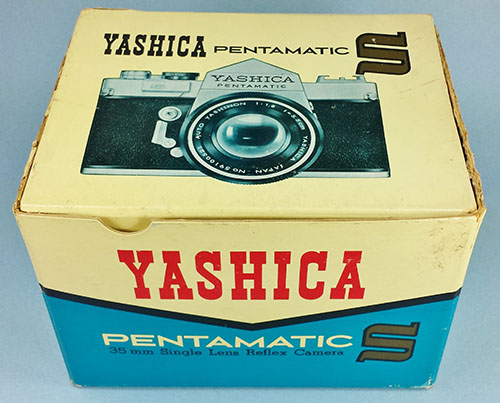 (Image courtesy of Chris Whelan)
Pentamatic & Related Links
There is not much information available on the Pentamatics, or indeed the early M42 models. The best collection of information, including photos, brochures and ads is on my friend and contributor Chris Whelan's blog site, Yashica Pentamatic Fanatic at https://yashicasailorboy.com/. Look at the sidebar in "Categories", or just enjoy the read. Chris and I have our differences of opinion but we are on the same wavelength and his discourse is lively, entertaining and intelligent.
There was a reasonably complete collection of Yashica SLRs at www.captainchaoz.talktalk.net together with other 35 mm and related models and Yashica items. Unfortunately, the hosting site was shut down in August 2018. I don't know whether the content will reappear elsewhere.